The Art of 'Green Lantern'
Three local artists quiz DC Comics' Doug Mahnke
It's a pretty good time to be artist Doug Mahnke. Not only is his run on DC Comics' Green Lantern one of the best-selling titles on the racks, but he has been confirmed as the series' regular artist when it relaunches in September at issue one as part of the DCnU revamp.
Mahnke visits Austin this weekend for a signing at Austin Books and Comics on Saturday: That will be preceded on Friday night with a special screening of the Green Lantern movie, complete with Q&A with Mahnke, at the Regal Gateway. So before those events, we asked three local artists – Tim Doyle, Matt Frank, and Patrick King – to come up with their own questions for the DC mainstay.
Matt Frank (cover artist, Godzilla: Kingdom of Monsters): What would you consider to be a 'dream job'? That is, is there a particular license you'd die to get your hands on? Or is that Green Lantern for you?
Doug Mahnke: No, in fact, I wouldn't say that Green Lantern is something I'd ever thought about working on. Frankly, it may be because DC has always kept me busy that I've never had to put my pencil down and think, 'What am I going to do now?' I've been working in comics for 20 years, 16 of them going on 17 with DC, and they've kept me consistently busy. There've been times when I had a miniseries wrapping up, and they present a couple of different ideas to me. But it's never very much been, 'OK, what do I want to do?' They say, 'Hey, would you like to do this?' and often I say, 'Yeah, that looks great, let's do it.' For example, when I moved across from Wildstorm, where I did a bit of work. I did Team Zero and Stormwatch: Post Human Division with Chris Gage [writer, G.I. Joe), and then I decided to go back to working at DC proper. I didn't have to look around, because something was immediately presented. Before I knew it I was doing the Black Adam series with Pete Tomasi [writer, Blackest Night one-shots], and before I was done with that I was doing Martian Hunter: Requiem, and before that was done I was working with Grant Morrison [writer, New X-Men, Animal Man) on Superman Beyond, and then it was, 'Hey, do you want to finish up Final Crisis?' That was a hell of a lot of work in a very short amount of time, and before I was done with that I was on Green Lantern. So, just like that before I have a chance to think of something, or even ask, they present something else.
In terms of thing I would like to do again, I had a lot of fun doing Frankenstein with Grant Morrison. It was just entertaining for me. It wasn't even like work, but they paid me.
If I could move forward and do something of my own choosing, it would most likely be some kind of limited series with specific writers. I would love to work with Pete Tomasi again. I'd love to work with Grant. I love working with Jeff [Johns, Green Lantern writer]. In two years we've built a great body of work, and we're going to continue to do so, but it would be great for Jeff to just pull something out. It's rarely that I think, 'I'd like to do something with that character.' Probably the only ones that come to mind are the females. I'd love to do something cool with Wonder Woman one day, or with Power Girl.
Tim Doyle (Nakatomi Inc., The Intergalactic Nemesis): With the success (both financially and creatively) of independent and creator owned projects like the type put forth by Robert Kirkman, Mark Millar, and even Brian Bendis, what is the allure to stay on a corporately owned book like Green Lantern as opposed to striking out and generating your own intellectual property over at a place like Image or Dark Horse that you not only own, but can reap the rewards from any exploitation of that IP in another media?
DM: I think about it, and then I lie down until the feeling goes away. It's not quite like that. I'd be surprised if there are any artists or writers, et cetera who don't have quite a bit of creator-owned material they'd like to get out there, and I'm no exception whatsoever. I have all kinds of ideas, things that I've worked up a little bit on my own. I even have pages, drawn and written. But for the consistency and the living that I'm making, and my relationship with DC, it's really hard to walk away from. I've got a large family, and I really have to think of that before stepping out in any direction. When I did something creator-owned [Major Bummer], I did it in a really safe way, where DC owned half and John Arcudi [Writer, B.P.R.D.] and I owned the other half. It had come into our hands completely at one point, but I really can't do anything with it because at this point it's outside of the DC influence. So I can't even work on the creator-owned project I do have. Can I see doing it eventually? As long as I'm still relevant, and I suddenly find myself in a really cushy position, I could see myself doing it. Plus, there's always the chance that I could work through some of that through DC. As far as doing my own completely creator-owned stuff, outside of DC, it would be a very long time before I could get to that.
Patrick King (Imperial Saints print series): What's your studio like? Do you listen to music for inspiration while drawing? If so, what kind?
Doug Mahnke: If you would see my studio, there wouldn't be a person on this planet who wouldn't be grossly unimpressed by what it looks like – at least the home studio. I have two studios. One I share with Pat Gleason [artist, Green Lantern Corps, Robin] up in North Branch, Minnesota, and that one actually looks like a studio out of a comic book artist. It has all kinds of stuff on the walls, it's filled with all kinds of Transformers and G.I. Joe toys and comics and stuff to look at. Eye candy, everywhere you look, and really 99.9 percent of it comes from Pat. There's not a whole lot of ornamentation that comes out of my studio. It's pretty spartan, and I do it my own way. It seems to be the area in my life that I least apply any significance to, as long as I have a place that I can put my cheap desk. My wife did force me to go out and get a brand new chair after having the same chair for most of my career. She got me a fairly nice chair, and it's much more comfortable than the one I was in. I don't have anything special, it's probably less than your average college student would have as a studio, but in the other hand it has everything I need. It has my scanner, so I can scan and print, and it's got light, and it's got a couple of things on the wall or that may end up on the wall if I ever have the desire to do so. It's generally a small mess, because I'm always more focused on getting things done than I am on keeping things clean. So as I finish each book, I tend to clean the studio up and then get back to the process of making it messy.
I might listen to music, I might watch documentaries – that's the thing I most gravitate towards when I'm working. I don't mind whatsoever watching movies or any kind of visual entertainment. It helps to know the story. I'll listen to movies, basically. I'll listen to the same movies again and again. I call it listening, but I catch little bits and pieces. Hot Fuzz, I've watched a ridiculous amount of times. It's like sitting down with an old friend, because you know the movie so well that it's kind of playing in my brain while I'm drawing, without looking at it.
Green Lantern screening with Doug Mahnke Q&A, Regal Gateway Cinema, 9700 Stonelake, 7.30pm, June 24. Mahnke will also be signing copies of Green Lantern at Austin Books and Comics, 5002 N. Lamar, 2-5pm, June 25.
A note to readers: Bold and uncensored, The Austin Chronicle has been Austin's independent news source for over 40 years, expressing the community's political and environmental concerns and supporting its active cultural scene. Now more than ever, we need your support to continue supplying Austin with independent, free press. If real news is important to you, please consider making a donation of $5, $10 or whatever you can afford, to help keep our journalism on stands.
READ MORE
More DC Comics
The annual graphic giveaway is this weekend, so what should you pick up?
Richard Whittaker, May 3, 2013
Why, that'd be Chris Claremont, wouldn't it?
Wayne Alan Brenner, July 4, 2012
More The Intergalactic Nemesis
The coffee shop theatre show turned live extravaganza heads to the Web
Richard Whittaker, March 28, 2014
Double bill at Stateside before book three begins
Richard Whittaker, Jan. 5, 2013
More by Richard Whittaker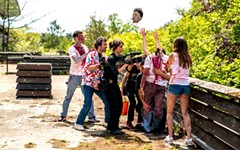 French remake of beloved Japanese movie-making comedy adds a little
Sept. 30, 2022
Wall-to-wall Godzilla in the new show, opening tonight
Sept. 30, 2022
KEYWORDS FOR THIS POST
DC Comics, The Intergalactic Nemesis, Austin Books and Comics, Green Lantern, John Arcudi, Grant Morrison, Pat Gleason, Doug Mahnke, Chris Gage, Pete Tomasi, Christos Gage, Patrick Gleason, Jeff Johns, Nakatomi Inc., Tim Doyle, Matt Frank, Imperial Saints, Pat King, Patrick King
MORE IN THE ARCHIVES