sxswf: No Ellen Page, But Still Pretty 'Super'
Rainn Wilson gets saucy at the 'Super' panel
By Joe O'Connell, 7:59PM, Sat. Mar. 12, 2011
When Ellen Page missed her flight and thus a standing room-only talk about the film Super, co-star Rainn Wilson picked up his cell phone and put Page on speaker phone to chat with the crowd of more than 650.
Director James Gunn called her part in their very human superhero flick is far from her usually wise young soul parts and instead "a 23 year old with the mind of a 12 year old." On the phone, Page confirmed the shoot was "rad as hell."
Gunn signed Wilson for the lead role at the suggestion of his ex-wife Jenna Fischer, who told Wilson about the script in a break on the set of The Office.
Oh, and don't walk out on a panel featuring Wilson. His retort to early leavers: "Gotta go? Is Jake Gyllenhaal taking a dump down the hall?"
Keep up with all our SXSW coverage at austinchronicle.com/sxsw.
READ MORE
More SXSW
Plus Teen Vogue, The Daily Show, and Charlie Rose
Richard Whittaker, Aug. 30, 2017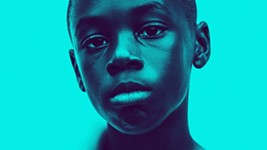 Oscar-winner Barry Jenkins part of first speaker list for 2018
Richard Whittaker, July 24, 2017
More Super
Day two of SXSW Film: Scenes from 'Super'
Kimberley Jones, March 13, 2011
More by Joe O'Connell
Austin author on adapting his award-winning novel for AMC
April 7, 2017
Doc excavates the creative mind of the eccentric artist
March 14, 2017
KEYWORDS FOR THIS POST
SXSW, Super, Rainn Wilson, James Gunn, Ellen Page, Jenna Fischer
MORE IN THE ARCHIVES