Behold the New Drafthouse
Groundbreaking imminent for new Parkside Alamo at Circle C
Ritz, Village, Lake Creek, Lamar and now Parkside: It's official, construction is about to begin on the latest Alamo Drafthouse. According to company CEO Tim League, the new all-digital eight-screen Parkside Alamo near Circle C in South-West Austin will play a pivotal role in the company's growth.
Last week, local developers Stratus Properties Inc. started the environmental protection process needed before they break ground on the new Parkside Village. The $20.5 million construction project at the corner of Mopac and Slaughter will include seven buildings, and tenants will include a new facility in the Austin Diagnostic Clinic chain.
But for film fans in the Circle C area the big news is the new 33,650-square-foot addition to the Alamo arsenal. This will be the biggest and first purpose-built-from-the-ground-up cinema in Austin. In a press release, League said, "We're pulling out all the stops to make the Parkside Alamo the most technically impressive Alamo yet and will ensure that it continues our unique programming philosophy."
The newest Drafthouse will also play a very important part in the bigger Alamo family. Last year, after being split into two entities, League took over as CEO of the re-united Drafthouse operation. Part of what he announced then was an intention to re-establish and strengthen the Alamo brand and vibe across all current and future cinemas. According to this latest press release, the Parkside Alamo will serve as "a training center for continued franchise expansion and a template for future theaters."
A note to readers: Bold and uncensored, The Austin Chronicle has been Austin's independent news source for over 40 years, expressing the community's political and environmental concerns and supporting its active cultural scene. Now more than ever, we need your support to continue supplying Austin with independent, free press. If real news is important to you, please consider making a donation of $5, $10 or whatever you can afford, to help keep our journalism on stands.
READ MORE
More Tim League
Familiar faces make up directors for troubled festival
Richard Whittaker, Dec. 1, 2017
Update: Faraci resigns, company to begin employee outreach
Richard Whittaker, Sept. 13, 2017
More by Richard Whittaker
Telling a love story with the "I love you"
Oct. 7, 2022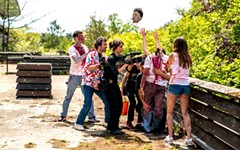 French remake of beloved Japanese movie-making comedy adds a little
Sept. 30, 2022
KEYWORDS FOR THIS POST
Alamo Parkside, Tim League, Original Alamo, Alamo Drafthouse, Circle C, Parkside Alamo
MORE IN THE ARCHIVES