Fantastic Fest: 'Buried'
How Ryan Reynolds became the man in the box
Buried was buried. The claustrophobic thriller, starring Ryan Reynolds and a cell phone, was written off as an unfilmable movie. Yet somehow it got filmed. "What we had was a guy and a box, and yet you're still here," director Rodrigo Cortes said at Thursday's Fantastic Fest gala screening at the Paramount. "I wonder what you didn't understand."
After the screening and once the audience took their first breath in 94 minutes, the star and director had time for a quick Q&A about the mindblowing little movie that shouldn't have happened.
On paper, Buried had more theoretical strikes against it than most projects: A blatantly political movie about a civilian contractor in Iraq (Reynolds) sealed in a wooden crate and buried, with only one character on-screen and long periods of pitch black nothingness. That's not exactly the kind of feel-good flick studios leap to green light. The script was rescued from the quasi-mythical black list of unfilmable films by Cortes, who wrote a long letter to Reynolds (longer than the script, the star joked) convincing him that that this was something he really needed to do. Little did the ever-charming star know what he was getting into. As the former Van Wilder put it, "It was a lot like dental surgery – If the dentist went through the penis.
The great thing about shooting films, Cortes explained, is that you get to be cruel to Hollywood stars. That's why Reynolds spent 17 days in a variety of seven different wooden boxes, cranking through up to 52 shots a day, all of which were done in a sealed container that took up to 15 minutes to dismantle. The first few days weren't so bad but, the Van Wilder star explained, by "the sixth day, I was basically skinless and I said, well, this sucks." Talk about suffering for your art. "I went into the box looking like me, and came out looking like Dick Van Dyke."
For all the joking, this is a movie that proves that Reynolds is an actor that people will watch locked in a box for an hour and a half. However, if that whole screen star falls through, there's also a promising career as a lighting tech. As the whole movie is shot with only the illumination Conroy can provide from the lighter, cell phone and glow sticks buried with him, it was up to Reynolds to light himself. The tools also gave him a novel way to count down the days left on set. "When a scene was done," he said, "I'd literally burn the pages with my Zippo."
Buried opens in limited markets this week and nationwide on Oct. 1.
A note to readers: Bold and uncensored, The Austin Chronicle has been Austin's independent news source for over 40 years, expressing the community's political and environmental concerns and supporting its active cultural scene. Now more than ever, we need your support to continue supplying Austin with independent, free press. If real news is important to you, please consider making a donation of $5, $10 or whatever you can afford, to help keep our journalism on stands.
READ MORE
More Fantastic Fest
Overlord, Apostle headline fest opening salvo
Richard Whittaker, July 31, 2018
Filmmakers talk science, magic, and bickering brothers
Richard Whittaker, April 20, 2018
More Fantastic Fest 2010
One-man Poe show closes festival
Richard Whittaker, Oct. 4, 2010
Director Jang Cheol-so gets an education in US audiences
Richard Whittaker, Sept. 30, 2010
More by Richard Whittaker
Telling a love story with the "I love you"
Oct. 7, 2022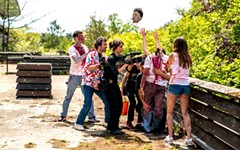 French remake of beloved Japanese movie-making comedy adds a little
Sept. 30, 2022
KEYWORDS FOR THIS POST
Fantastic Fest, Fantastic Fest 2010, Buried, Ryan Reynolds, Paramount, Gala, Rodrigo Cortes
MORE IN THE ARCHIVES