The Wild, Wild World of Susan Tyrrell
Forbidden Zone director at the Alamo on Sunday
By Marc Savlov, 9:32AM, Sat. Apr. 10, 2010
One of our favorite Oscar-nominated actors, the legendary Susan Tyrrell, will emerge from the shadows Sunday evening to host a screening of the cult-classic Forbidden Zone at the Alamo South Lamar, followed by a showing of her delirious artworks at The Highball. We'll be there, and if you know what's good for you, so will you
That's not a threat, that's a promise: meeting Ms. Tyrrell is a mind-expanding experience in every sense of the weird. Beginning with her storied Hollywood resume, which runs the gamut from John Huston's Fat City (Best Actress in a Supporting Role, 1973) to Andy Warhol's Bad, and from the wickedly warped Night Warning to John Water's Cry-Baby and beyond, "Susu" has seen it, done it, and lived to tell about it all.
Personally, we're anxiously awaiting her rumored autobiography, which promises to be the ne plus ultra of juicy Hollywood-and-vein tell-alls, but until that time we're more than happy to ogle her artwork and enter The Forbidden Zone one more time.
Tickets and information on tomorrow's 7 pm screening can be found here.
A note to readers: Bold and uncensored, The Austin Chronicle has been Austin's independent news source for almost 40 years, expressing the community's political and environmental concerns and supporting its active cultural scene. Now more than ever, we need your support to continue supplying Austin with independent, free press. If real news is important to you, please consider making a donation of $5, $10 or whatever you can afford, to help keep our journalism on stands.
READ MORE
More Susan Tyrrell
'Forbidden Zone,' 'Fat City' actress passes away
Kimberley Jones, June 18, 2012
Susan Tyrrell's the baddest bitch
Audra Schroeder, April 12, 2010
More Alamo
Marc Savlov, Sept. 26, 2012
What not to miss, why not to miss it
Marc Savlov, Sept. 20, 2012
More by Marc Savlov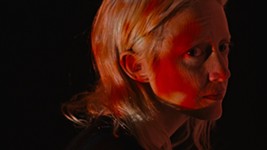 Identity melts in this psychotropic assassination brainblender
Oct. 2, 2020
Mangled Italian creature feature should be even shorter
Sept. 25, 2020
KEYWORDS FOR THIS POST
Susan Tyrrell, Alamo, Forbidden Zone, cult
MORE IN THE ARCHIVES