Film Incentives Pass House
Lawmakers unanimously approve Travis Co. bill: Author Dukes expects quick passage
Big day for the Travis County delegation and Rep. Dawnna Dukes, D-Austin, as she coaxed the 81st legislature into actually passing a bill. "First bill of the session, first bill on the calendar, first major state bill, and it is House Bill 873, the film incentives," she said.
The only group that has come out against the bill is the Libertarian Party of Texas, which put out a press release demanding the abolition of the Governor's Music, Film, Television, and Multimedia Office. However, Dukes said she had to stave off a last-minute attempt on the floor to derail the bill as corporate welfare but, as she pointed out, "even the conservative coalition supported the concept of the bill because of its potential for creating 4,000 jobs."
SB 605, the Senate version of the bill, was voted out of the Senate Economic Development Committee a few days ago, and was sent to the Local, Consent, and Resolutions Calendar. Once the House bill gets over there, it should become law in short order. As long as the budget passes with all necessary riders attached, the new-look incentives should be ready to roll quickly.
While the hope is that the tax rebates will attract more business, Dukes had a sobering reminder about the need for incentive reforms just to hold some ground. Five years ago, there where 1,500 full time positions in film and television production in Texas: Last year, there were 60.
A note to readers: Bold and uncensored, The Austin Chronicle has been Austin's independent news source for over 40 years, expressing the community's political and environmental concerns and supporting its active cultural scene. Now more than ever, we need your support to continue supplying Austin with independent, free press. If real news is important to you, please consider making a donation of $5, $10 or whatever you can afford, to help keep our journalism on stands.
READ MORE
More Texas Film Commission
Localized subsidies proposed to fight off in-state competition
Richard Whittaker, April 22, 2014
Director Robert Rodriguez distances himself from incentives suit
Richard Whittaker, March 19, 2014
More Film Incentives
TV show departs Austin over incentives
Richard Whittaker, June 22, 2016
Change.org petition demands special session to save program
Richard Whittaker, May 29, 2015
More by Richard Whittaker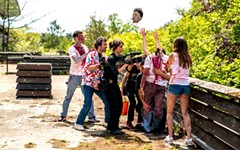 French remake of beloved Japanese movie-making comedy adds a little
Sept. 30, 2022
Wall-to-wall Godzilla in the new show, opening tonight
Sept. 30, 2022
KEYWORDS FOR THIS POST
Texas Film Commission, Film Incentives, Economy, Dawnna Dukes, 81st Legislature, Texas House of Representatives, Libertarian Party of Texas
MORE IN THE ARCHIVES