Viva Les Froid Amis!
By Marc Savlov, 9:04AM, Wed. Oct. 29, 2008
Okay, so it's going to be as chilly as a penguin's patootie in Republic Square Park this evening, but that's no reason to miss the Austin Film Society's free screening of local filmmaker Nancy Higgins acclaimed documentary Viva Les Amis. Seriously, bring some blankets, a dog (or two), and a box of House Merlot and we promise you'll be fine.
So what, exactly, is Viva Les Amis? To quote Higgins, it's "a documentary about Les Amis Café -- the Parisian-inspired bohemian meeting place that flourished for 27 years in Austin, Texas. The film shows the counterculture of the 70's, punk rock of the 80's, and rapid growth of the 90's as seen through the eyes of one local establishment ... and explores how a place like Les Amis Café contributes to the culture and identity of a city by capturing the cafés long history and eclectic clientele."
Nicely put, but we might also add that Les Amis -- notoriously replaced by a Starbuck's at the corner of 24th Street and San Antonio eleven years ago -- featured prominently in Richard Linklater's legendary Slacker, was the cradle of Austin's still-standing boho birthright, and, frankly, had the coolest waiters and waitresses ever. But you missed it. Damn the luck and thank Guy Debord for Higgins' splendid doc.
Tonight's screening opens with music by Little Big Man at 6pm, followed by a whole lotta Higgins at 7 pm. Miss this and you're not allowed to whine about the good old days anymore. And for the love of Henri Langlois, would someone please open up a Les Amis 2.0 already? (And we'll take a side of Mad Dog & Beans with that.)
A note to readers: Bold and uncensored, The Austin Chronicle has been Austin's independent news source for almost 40 years, expressing the community's political and environmental concerns and supporting its active cultural scene. Now more than ever, we need your support to continue supplying Austin with independent, free press. If real news is important to you, please consider making a donation of $5, $10 or whatever you can afford, to help keep our journalism on stands.
READ MORE
More Viva Les Amis
Viva Les Amis and Slacker 2011 double-team
Marc Savlov, Aug. 8, 2011
More by Marc Savlov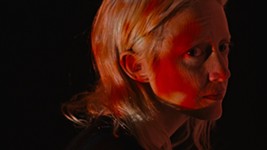 Identity melts in this psychotropic assassination brainblender
Oct. 2, 2020
Mangled Italian creature feature should be even shorter
Sept. 25, 2020
KEYWORDS FOR THIS POST
Viva Les Amis, Nancy Higgins, Old Austin
MORE IN THE ARCHIVES