You So Crazy!
The Great Derangement
By Marc Savlov, 10:10PM, Thu. May 15, 2008
It's good to know that less than 24 hours after all hell broke loose, weather-wise, Austin's weirdness remains at an all time high, cinematically, at least. Seriously: Last night we watched a clearly messed-with and un-nice Mother Nature uproot a three-story oak not 15 feet from our living room window while hail the size and density of Idaho very nearly punched holes clean through our ceiling. And tonight? Tonight we get to watch a hickoid necrophile with a serious case of the Oedipals deconstruct femininity and the mother-son relationship in an entirely non-theoretical fashion. Not literally, of course, although we're pretty sure that could be arranged via a quick trip to either Elysium or Bastrop. Nah, we're talking about the Alamo Ritz's Terror Thursday screening of Jeff Gillen and Alan Ormsby's 1974 Ed Gein-inspired psychobilly freakout Deranged.
Ormsby owns a special place in our heart. He scripted Bob "A Christmas Story" Clark's 1972 zombies-versus-pretentious-hippies-in-vertically-striped-flares epic, Children Shouldn't Play With Dead Things, which was the first drive-in movie we ever saw in an actual drive-in, back when speaker posts (and flares) were all the rage. We were all of ten years old when some seriously misguided and/or sadistic relatives took us the re-release and thereby insured our future in horror film geekery. Needless to say, we've dug hell out of zombies and flares ever since (funny how they both keep coming back, isn't it?), although at the time we're pretty sure we ended up cowering in the back seat, shrieking like a ten year old. Go figure.
Deranged ended up being the only film Ormsby got directorial credit on (he helmed part of 1991's weak Popcorn before being replaced by Mark Herrier), but it's a doozy of a debut. Roberts Blossom (not to be confused with The Addam's Family's Blossom Rock or "Just One of Those Things"-chanteuse Blossom Dearie, although we could see how you might) is stark raving awesome in the title psychopathology, riffing his way up and down the insanity spectrum in a role that was based in large part on Plainfield, Wisconsin's real-life corpse-lover Ed Gein, at the time already infamous as the basis for both the novel and film versions of Psycho's matricidal motel maven Norman Bates. Suffice to say, Blossom's performance in Deranged makes Anthony Perkins look like the soul of sanity. Go check it out and tell us you don't have twitchy night-sweats for at least a week afterward. We dare you.
[And while you're at it, check out one of our favorite horror blogs, Decapitated Zombie Vampire Bloodbath's in-depth Deranged-ment.]
Post-Deranged, Ormsby stuck to screenwriting, but talk about diversity? My Bodyguard, Paul Schrader's Cat People, The Substitute, and – we kid you not – Disney's Mulan. Sidelining in the freak-the-fuck-out-of-your-kids Department, he also created our very favorite childhood plaything/nightmare, Hugo: The Man of 1,000 Faces. Now that's a résumé a mother can be proud of!
A note to readers: Bold and uncensored, The Austin Chronicle has been Austin's independent news source for almost 40 years, expressing the community's political and environmental concerns and supporting its active cultural scene. Now more than ever, we need your support to continue supplying Austin with independent, free press. If real news is important to you, please consider making a donation of $5, $10 or whatever you can afford, to help keep our journalism on stands.
READ MORE
More Alamo Drafthouse
Alamo heads to the great outdoors for Sleepaway Camp
Marc Savlov, May 11, 2018
Update: Faraci resigns, company to begin employee outreach
Richard Whittaker, Sept. 13, 2017
More by Marc Savlov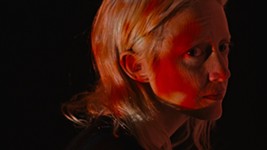 Identity melts in this psychotropic assassination brainblender
Oct. 2, 2020
Mangled Italian creature feature should be even shorter
Sept. 25, 2020
KEYWORDS FOR THIS POST
Alamo Drafthouse, Terror Thursdays, Alamo Ritz
MORE IN THE ARCHIVES