Y2K Exits Stage Left & Turito Enters the Scene
Local queer DJ puts out first and last EP under the Y2K name
By James Scott, 12:30AM, Thu. Jan. 5, 2023
A few years ago, some friends and I headed to Cheer Up Charlies for a Dorian Electra show. We got drunk, danced, and I saw for the first time the artist formerly known as Y2K – an electronica-wielding cyber queen blasting bops that made my beer-addled brain simmer.
With their new EP, Game Over, released at the same time as their retirement of the Y2K name, Turito – the new moniker the DJ will perform under – was kind enough to chat with me over email about the transition.
Austin Chronicle: Why have you decided to bring the Y2K era to a close?
Turito: I think the end of Y2K is something that was always going to happen. The Y2K persona was conceptualized as a Femmebot Desirous Virus, and it was only a matter of time before the virus had to die. After a while, I felt very much stuck in a box with the persona that was Y2K. I am ending Y2K so that I can focus on new projects under the moniker "Turito". Turito is me, the human behind the AI Game that was Y2K. The name comes from my birth name, Arturo. Growing up my family called me Turi or Turito as a nickname. I hope that with Turito, I'll feel more like myself and not a character. I'll also have more freedom to evolve my sound and look.
AC: Why choose now to release Y2K's first and last EP?
T: Most of the EP has actually been ready for release since 2020. That year, I was an official artist for SXSW and I had planned to drop the EP the week of the festival, and promote at the festival. When the world shut down due to COVID, this plan went on pause. For a while, I felt discouraged about releasing these songs and confused about when to do it—now that I am developing new exciting work, it feels right to let them free into the world.
This EP is the collection of all the BOPS I have been performing live for the last two years. I want to make the songs available to all my fans who come out to see me on stage, so that they can revisit and relive them whenever they want. I am moving on from Y2K but Y2K's work will remain.
AC: What is the guiding theme behind the Game Over EP?
T: Conceptually, Y2K was always just a game that Turito was playing—Game Over is the final level of the game where you find out that there has always been someone controlling what you thought was reality. Game Over EP is where the Cyber Dream of Y2K ends.
The EP is mostly produced by one of my main collaborators, Boy Sim, who helped me create the electro hyper pop sound of Y2K. The release features my single, World Destroyer Ft. BabiBoi—also a parody track we made titled, "Elon Musk", that I created in 2021 [for] Museum Of Human Achievement's Holiday Musical. The title track, Game Over, is produced by Åírös and features Turito, you can hear the sound of both projects in that song.
AC: What does 2023 hold for Turito? What are your hopes for the new year?
T: I'm actually very excited for 2023! I am planning on releasing a trilogy of EP's, titled Turito. I'm thinking of it as a three volume conceptual album. On each volume (each EP), I am collaborating with a different producer to create 4 tracks. The sound is darker than what I've made before, ravey dance music. This era is about creating the music I like to listen to personally and that I want to play when I'm DJing.
These three EP's [are] scheduled for early February. I'm also planning on going on tour in 2033—I'll be announcing all of that over socials.
AC: What is your favorite memory as Y2K?
T: I have so many favorite memories! From the events I've been able to produce to the network/community I've been able to build. As well as sharing bills and stages with artists like Crystal Waters, Charli XCX, Alok, Dorian Electra, Zebra Katz, La Goony Chonga and so many more. The two films I made with all queer people both on and off screen! The Lot Radio. Playing Festivals here and in California and New York.
---
Game Over is available for streaming
. Catch Turito at Cheer Up Charlies' Free Week CUC Angels drag show DJing alongside DJ BoyFriend ATX this Thursday, Jan. 5.
A note to readers: Bold and uncensored, The Austin Chronicle has been Austin's independent news source for over 40 years, expressing the community's political and environmental concerns and supporting its active cultural scene. Now more than ever, we need your support to continue supplying Austin with independent, free press. If real news is important to you, please consider making a donation of $5, $10 or whatever you can afford, to help keep our journalism on stands.
READ MORE
More LGBTQ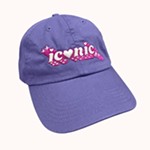 Gifts for the els, bees, gees, and teas – and the pluses!
James Scott, Dec. 7, 2023
Daring Dialogues founder on how DEI bans affect queer Texans
Adam Cherian, June 26, 2023
More by James Scott
Qmmunity advises on what local places are best for gay gift shopping this year
Dec. 8, 2023
Local Austin health orgs celebrate World AIDS Day 35 with fun and educational events
Dec. 1, 2023
KEYWORDS FOR THIS POST
LGBTQ, Y2K, Turito, Game Over EP
MORE IN THE ARCHIVES