Documentary Explores a Queer Nightlife Well-Lived
Local LGBTQ film on queer spaces needs your help finishing production
By James Scott, 12:50PM, Fri. Nov. 4, 2022
Austin's queer community has gotten used to the fluidity of actual spaces, having lost many places over the years to the city's rising costs and opportunistic developers. In their upcoming documentary, I Need Space, directors Hannah Varnell, Ivy Chiu, and Lauren Yap aim to tackle what the queer space of Austin is right now before it becomes just a memory.
With gentrification being as hot a topic as it always has been in Austin, Varnell, Chiu, and Yap all maintain that the documentary is not an "us vs them" narrative. Instead they intend to document and explore Austin's current queer scene, as well as how and who gets to influence that. "It's been interesting, as we've been looking into gentrification and the ways that cities develop," Varnell says, "we've learned about something called the void, which is when things go away, they're just gone. And I think that reinvigorated our desire to want to cover this."
All three have lived in the city for varying lengths of time, Chiu having stayed here the longest at 12 going on 13 years. Chiu says that going to spaces like Red River fixture Cheer Up Charlies gave them permission to engage with queer nightlife in a way they hadn't before. "It's been really cool to see our city actually have a bigger queer presence," they say. "Especially since my early years here, even though Austin's gay, it still wasn't as accepting."
To Varnell, whose seven years in Austin have included photo and video work for the local queer scene, her perspective changed around the opening of Coconut Club. With that space and the longer-established Cheer Ups, she says the vibe of Austin is more queer than specifically gay or lesbian. "[It's] not like in other cities where you go to a certain part of New York and it's all the gay bars," Varnell explains. "To me, my evolution has been in these queer spaces that are feel specifically resonant with Austin, and it makes you realize what a thriving queer scene Austin has."
Both Chiu and Yap are UT-Austin grads, with Yap having graduated in 2020. She says that the post-vaccine rush of 2021 was the first time she dipped into Austin's queer nightlife scene and, having only come out as queer herself a few years prior, she says seeing folks being so unapologetically themselves helped her come into herself. That experience isn't exclusive to her, she acknowledges, and the sense of community built up through revisiting the same nightlife events every weekend like Tuezgays or Cheer Ups drag shows is key to many queer folks understanding of themselves. When those experiences were threatened in April 2022 by the news that the Coconut Club and Oilcan Harry's buildings, she says a truth about the city's nightlife was revealed.
"Once the news about the redevelopment of Fourth came out, there was a lot of uproar," Yap recalls, "And it wasn't necessarily from the businesses themselves, because they kind of knew about it ahead of time, but it was from the community." Hearing the outcry from community members at Historic Preservation hearings as well as directly from folks like House of Lepore's Mother Natalie was the push all three directors needed to make I Need Space. "I tell this fucking Natalie story every time," Yap says. "It was right after the news just happened … everyone was kind of shaken by it. And she was like, 'You guys are younger, I'm not going to be here. The history is going to be rewritten. They're going to try and whitewash it. You guys have to tell the story. Do what you can.' And it was like, I didn't realize until that moment, I was like, 'Why don't we do something?'"
Since I Need Space is still in production, Varnell, Yap, and Chiu are finding the documentary's narrative as they go along. On the fly interviews at various queer events lead them down different paths, each one important and thought-provoking. "I feel like we're still in the stages of really learning what the story is," Chiu says. "And we don't want to have any kind of judgment or come in with an agenda of 'This is what's happening.' Because we're just trying to talk to the community and find out what's going on. What's everyone feeling? … We're just trying to be students." Varnell points to interviews at a recent House of Lepore Vogue Night at Swan Dive: "We started talking to somebody about how being able to dance in different modalities help them explore femininity, or masculinity. And that got us kind of going off on this tangent about presentation and gender presentation … like Ivy said, we're kind of following leads as they come."
I Need Space is currently fundraising via Seed&Spark, though Chiu does say that asking for money has been strange. "It feels kind of like a confusing experience to be like, 'Hey, help us make this film about our community,' but our friends are all queer and broke," they say. "There's so many costs that come with making movie that are not even about the making of it, right, like the legal fees paying for archival footage, like of accounting and feeding people. And so we're trying to be conscious of what that looks like."
No matter what though, Chiu says, the film will get made. All three acknowledge the importance of capturing Austin's queer nightlife as it is now. "I've talked to some older gays before in the community," Yap says, "and they were like Austin is kind of a town where you stay here as long as you can sustain yourself for and then you move out. And so there have been gays here forever, but it seems like everything is fresh, because people move in, they stay till they can, they move out, and new people move in and they like feel like they are reinventing the wheel … It's just seemed very relevant because the change was happening before our eyes very clearly."
---
I Need Space
's Seed&Spark fundraising goal is $25,000. Rewards for donating include a virtual kiss, access to the film's Discord group, "virtual feet pics" drawn by their graphic design team, and more. Check their Instagram, @ineedspacefilm, for updates on the production.
A note to readers: Bold and uncensored, The Austin Chronicle has been Austin's independent news source for over 40 years, expressing the community's political and environmental concerns and supporting its active cultural scene. Now more than ever, we need your support to continue supplying Austin with independent, free press. If real news is important to you, please consider making a donation of $5, $10 or whatever you can afford, to help keep our journalism on stands.
READ MORE
More LGBTQ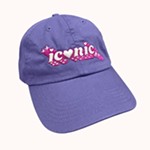 Gifts for the els, bees, gees, and teas – and the pluses!
James Scott, Dec. 7, 2023
Daring Dialogues founder on how DEI bans affect queer Texans
Adam Cherian, June 26, 2023
More by James Scott
Qmmunity advises on what local places are best for gay gift shopping this year
Dec. 8, 2023
Local Austin health orgs celebrate World AIDS Day 35 with fun and educational events
Dec. 1, 2023
KEYWORDS FOR THIS POST
LGBTQ, Austin queer nightlife, Lauren Yap, Ivy Chiu, Hannah Varnell, House of Lepore, Coconut Club, Cheer Up Charlies, Oilcan Harry's, Fourth Street
MORE IN THE ARCHIVES