Austin Black Pride Dissolves
Beloved local Black queer org says goodbye in Insta post
By James Scott, 7:54PM, Wed. May 4, 2022
Austin Black Pride, the local org dedicated to celebrating the city's Black queer community, has disolved effective May 4, according to an Instagram post from the group's board.
In the post, ABP stated that they're grateful to have contributed to multiple Pride events throughout Austin - including the annual Austin Black Pride in June, the Drip Drop dances, and other social gatherings centered around Black LGBTQ folks. "We are extremely proud of all that we have accomplished in these glorious years," they said in their letter to the community, "and could not be more thankful to those who have believed in us and invested in the future of this organization."
In 2018, ABP won "Best Champions for Austin's Blaqueers/QPOC Community" in that year's Best of Austin. "From their signature Austin Black Pride Weekend," the Chron said in praise of the org, "to their near-monthly events, ABP doesn't just throw a damn good party (though they definitely do); they also host art shows, brunches, book groups, and panel discussions on living at the intersection of black and queer to better showcase and support Austin's thriving black LGBTQ community." Other local queer orgs also spoke up in the comments of ABP's post, with Austin Pride expressing their "mad love" for the group, UT-Austin's Gender and Sexuality Center admiring ABP's transparency and leadership, and House of Lepore Mother Ms. Girl6 stating that ABP has "changed the culture of Austin" and provided safe spaces for the city's Black community. Though pandemic caution canceled their 2020 event, ABP came back in full force last year for their annual multi-day celebration.
The dissolution comes as the result of a former ABP board member's misappropriation of funds that "did not align with our mission, morals and ethics to serve the community." As a result, ABP said they're unable to fund their yearly Pride festivities or community events. While acknowledging that this step is regrettable, the organization stated they truly appreciate the deep loyalty inspired in their community. "We ask that you keep that momentum and look into your other local organizations & community coalition groups," ABP said. "Challenge them to help the vision of creating safe spaces for all those that deserve it. Black Trans, Black queers, & IPOC deserve it."
A note to readers: Bold and uncensored, The Austin Chronicle has been Austin's independent news source for over 40 years, expressing the community's political and environmental concerns and supporting its active cultural scene. Now more than ever, we need your support to continue supplying Austin with independent, free press. If real news is important to you, please consider making a donation of $5, $10 or whatever you can afford, to help keep our journalism on stands.
READ MORE
More Austin Black Pride
Celebrating the evolution of Austin's Black LGBTQ community
Sarah Nicholus, April 4, 2017
More by James Scott
Qmmunity advises on what local places are best for gay gift shopping this year
Dec. 8, 2023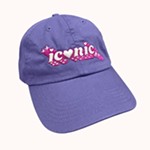 Gifts for the els, bees, gees, and teas – and the pluses!
Dec. 7, 2023
KEYWORDS FOR THIS POST
Austin Black Pride, Drip Drop, Austin Pride
MORE IN THE ARCHIVES