QueerTowne Celebrates Milestone Virtual Show Tonight
Why settle for quarantine when you can "Queerantine," baby?
By James Scott, 12:00PM, Fri. Aug. 28, 2020
Ten is a big number – that's double digits we're talking about. These days, getting to 10 of something can't be taken lightly with the world being all topsy-turvy. Which is why QueerTowne's pandemical creation "Queerantine" making it to 10 shows is such a groovy trip! After all, why settle for quarantine when you can queerantine, baby?
But first, a moment for us and our "Queerantine" friends to mourn what's lost. QueerTowne was a monthly show* on the Coldtowne stage displaying not only the quick wits of improv qweens Mase Kerwick, Laura de la Fuente, and Javier Ungo, but also a rotating menagerie of guests: some fictional; some local qmmunity members like Horror Queers' podcast co-host Trace Thurman (and Chronicle operations manager!); and some speaking for important causes, like Trans+ co-author and Out Youth Operations & Program Director Kathryn Gonzales.
However, as the queer comics pivoted the show online in the wake of the pandemic, Kerwick told us much of the variety show aspect, including guests, started to fall away as the hosts began to play off each other for longer comedic spirals. Other sad farewells include sharing liquid refreshments ("Drinking socially is part of the queer community," Fuente reminisces. "Like, 'Let's go out,' or like, 'Who's sober right now? Let's support them!'") and parking lot chats fueled by post-show bliss. Without those communal elements, going from an in-person show to a socially distanced staging was startling: Now, after a "Queerantine" show, "There's a weirdness of just like, 'Okay, I'm going to close my laptop window and go sit on my couch, and finish up this episode of Canada's Drag Race," explains Ungo.
For a wild moment during one "Queerantine" show, French lesbian stans of Portrait of a Lady on Fire director Céline Sciamma thought that Fuente's parody performance of her was going to be the real deal.
But parting isn't all sweet sorrow. No in-person show actually meant more shows, since 2020 was initially meant to be their slowing down year for QueerTowne (pre-pandemic, of course). The three hosts have bought their own ring lights and jerry-rigged at-home recording setups to produce the virtual show, and Twitch's chat function has created the opportunity to pull in a larger virtual audience, including out-of-state friends and supporters. But perhaps most important of all, the new show has born a wellspring of creative energy. The hosts – tentative at first in their texts and planning – have grown even bolder in their approach to sketch ideas.
"We ultimately like it to be a little bit more chaotic," Kerwick says. "At the risk of sounding very corny," Ungo adds, "I think we tend to approach our kind of working relationship with the real 'yes and…' principle philosophy."
Leaning into those madcap pitches has even yielded some internet uproar. For a wild moment during one "Queerantine" show, French lesbian stans of Portrait of a Lady on Fire director Céline Sciamma thought that Fuente's parody performance of her was going to be the real deal. After Kerwick, who handles the group's social media presence, tagged the director on a post about their show where Fuente was going to play Sciamma as a character, several European fans began responding excitedly about seeing their cinema icon on a little queer American show.
"Then Mase responded and was like 'Thank you for finding our cute little show, excited for y'all to tune in,'" Fuente remembers. "Not necessarily saying that Céline wasn't going to be on it, but definitely not dissuading them from tuning in. They lasted about two seconds in, and then they were like, 'That's not the real Céline!'"
Still, the ultimate magic of the show lies in the ecstatic and irreplaceable dynamic between the three hosts. "I'm still a pretty narcissistic comedian," Ungo admits. "I'm just trying to make Laura and Mase laugh first." They've carved a fun space for the queer community, as Fuente says, to both continue and evolve. So, where does "Queerantine" go next?
Guess you'll have to tune in to tonight's show to find the answer, won't you?
---
Queerantine's 10th show is on Friday, Aug. 28, 8pm. Their show will be streamed on Coldtowne's Twitch channel, www.twitch.tv/coldtownetv, where you can also donate to the theatre.
---
*Editor's note: QueerTowne also hosts a popular end-of-year variety show, in which this article's author James Scott took the stage in the Before Times, aka last December.
A note to readers: Bold and uncensored, The Austin Chronicle has been Austin's independent news source for over 40 years, expressing the community's political and environmental concerns and supporting its active cultural scene. Now more than ever, we need your support to continue supplying Austin with independent, free press. If real news is important to you, please consider making a donation of $5, $10 or whatever you can afford, to help keep our journalism on stands.
READ MORE
More by James Scott
Qmmunity advises on what local places are best for gay gift shopping this year
Dec. 8, 2023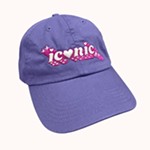 Gifts for the els, bees, gees, and teas – and the pluses!
Dec. 7, 2023
KEYWORDS FOR THIS POST
QueerTowne, Coldtowne, Mase Kerwick, Laura de la Fuente, Javier Ungo, Queerantine, virtual comedy, virtual events, Céline Sciamma, Portrait of a Lady on Fire, Kathryn Gonzales, Trace Thurman
MORE IN THE ARCHIVES