Unbounded Agency Launches Weekly IGTV Series for Creative Entrepreneurs
Creative Capital fosters skill sharing, connection during COVID-19
By James Scott, 12:00PM, Thu. Apr. 9, 2020
As much of the world moves into the virtual, online space because of COVID-19 precautions, so do the creatives who once platformed their work on solid stages.
Virtual skill-sharing and idea exchange isn't a new concept on the internet, but it's being steadily improved upon by platforms like Unbounded Agency with its new IGTV series, Creative Capital, premiering today, Thursday, April 9, at 3pm, and streaming every Thursday at 3pm thereafter.
Unbounded founder Anita Obasi describes Creative Capital as "a central hub for diverse idea exchange," featuring contributions from creatives Unbounded has collaborated with in the past. According to the agency's website, each episode – anywhere from 5-15 minutes long – will showcase "a creative entrepreneur going through a practice that either relates to their trade or provides a healthy release from their day-to-day." By culling from a wide pool of occupations and disciplines, no two episodes will be the same. "We are so excited to be featuring local fashion designers, fabricators, filmmakers, anyone with a profession starting with 'F'... just kidding," Obasi says. "But the list is ever increasing as people pitch their episodes to us, and so far, no one creative is in the same discipline."
At a time that requires folks to shift and adapt when the going gets tough, the series aims to virtually foster connection and offer tools of empowerment for creative entrepreneurs in the absence of physical interaction. Creative Capital will also double as an information hub and directory of featured creatives. "If our audience sees an episode and is interested in contracting services from the featured creative," Obasi explains, "they now have a central place to find who that creative is and how to best reach out."
Still, not every episode will feature creatives doing something that aligns with their usual discipline, but will instead focus more on things that keep them inspired in their day-to-day. Many of these things are stress-relieving activities that allow for creative people to keep, well, creating. "You might see a DJ who teaches you the basics of knitting," Obasi remarks. "Or maybe a painter who likes to make bread. Things might get crazy like that, you know?"
Asked about her own ways of finding a healthy release from the upturned present world, Obasi says she finds peace through cooking, meditation, her skateboard, and "rewatching the entire True Blood series :D."
---
Creative Capital will stream on IGTV every Thursday at 3pm. Creatives who make a living through their craft are encouraged to apply as a contributor through this form; Unbounded will be reaching out on a rolling basis.
A note to readers: Bold and uncensored, The Austin Chronicle has been Austin's independent news source for over 40 years, expressing the community's political and environmental concerns and supporting its active cultural scene. Now more than ever, we need your support to continue supplying Austin with independent, free press. If real news is important to you, please consider making a donation of $5, $10 or whatever you can afford, to help keep our journalism on stands.
READ MORE
More by James Scott
Qmmunity advises on what local places are best for gay gift shopping this year
Dec. 8, 2023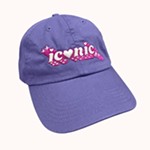 Gifts for the els, bees, gees, and teas – and the pluses!
Dec. 7, 2023
KEYWORDS FOR THIS POST
Unbounded Agency, Anita Obasi, Creative Capital
MORE IN THE ARCHIVES