Queerantining With Qmmunity's James Scott
Hint: It involves lots of podcasts and (mostly) gay reads
By James Scott, 10:10AM, Fri. Mar. 20, 2020
Hello queers. It's me, James Scott, that journalist you might know from interviewing queer wrestlers or posting anime art I drew while social distancing.
Wow! These past few weeks have been rough. We're all stuck doing things we don't like to do, like being lonely and staying home, but these safety measures are what we need to do in order to slow the spread of COVID-19. I know, it's effing hard, and it'll be a long experience, which is the worst kind of experience. So, I've put together a list for you – from one sad bi trans guy to the whole beautiful Austin qmmunity – of things I love that might keep you occupied while we're doing our part to help flatten the curve. Best wishes, queerios.
Frog Detective Games
These are my two favorite video games: Frog Detective and the Haunted Island and Frog Detective 2: The Case of the Invisible Wizard. In these award-winning games developed by Grace Bruxner and Thomas Bowker, you are a frog who solves mysteries, which is the best thing to be (if you ask me). Each point-and-click adventure game is $5 to download and both come with a Steam key, if that's your thing. The character designs are cute; in the second one, you can decorate a notebook with stickers.
Las Culturistas and Blank Check
All I do, if you ask Qmmunity Editor Beth Sullivan, is talk about podcasts I love.* It's because, dear reader, I'm afraid of silence. I like hearing people, knowing they exist, and laughing at their distant jokes. Las Culturistas came back in early March from a brief hiatus with some stellar new episodes with hosts Matt Rogers and Bowen Yang covering the latest in culture – the Nicole Byers one is the best! Blank Check, hosted by The Atlantic film critic David Sims and actor Griffin Newman, has a long back catalogue of episodes discussing film directors and their "blank check" movies – where money, ego, lack of oversight, and Hollywood brain worms create perfect (and disastrous) film storms. Both are good for listening to while you cook quarantine meals (or order take-out or delivery from a local restaurant).
*(Editor's note: James talks about lots of other cool things, too, some of which you can find here.)
A Selection of Things to Read
You've been putting off reading for other, more fun and social plans, but now you've got the time. So here are some good (mostly) gay reads to spend your time: Something That May Shock And Discredit You by Daniel Ortberg; John Paul Brammer's ¡Hola Papi! advice column; and this recipe for chickpea and chorizo tostadas from Bon Appétit, which tastes good and makes you feel happy to be alive – loneliness be damned.
A note to readers: Bold and uncensored, The Austin Chronicle has been Austin's independent news source for over 40 years, expressing the community's political and environmental concerns and supporting its active cultural scene. Now more than ever, we need your support to continue supplying Austin with independent, free press. If real news is important to you, please consider making a donation of $5, $10 or whatever you can afford, to help keep our journalism on stands.
READ MORE
More by James Scott
Qmmunity advises on what local places are best for gay gift shopping this year
Dec. 8, 2023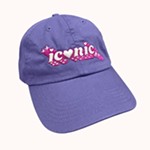 Gifts for the els, bees, gees, and teas – and the pluses!
Dec. 7, 2023
KEYWORDS FOR THIS POST
social distancing, Frog Detective, Las Culturistas, Blank Check, Daniel Ortberg, John Paul Brammer, Bon Appétit
MORE IN THE ARCHIVES