Five Queer-Centric Horror Films to Watch This Halloween
Putting the "queen" back into your scream queen needs
By James Scott, 10:20AM, Fri. Oct. 25, 2019
Halloween is Gay Christmas, but much like Christmas, most of the movies out there celebrated as premium works don't feature a lot of the LGBTQs.
Oh sure, some of them have a few queer cameos – who else is gonna play the horrible killer, the emotionally disfigured villain attacking the straight, cis way of life? To quote gay Joker (who is the Joker I made up), "This Qmmunity deserves a better class of queer horror films."
So I've gathered five real winners – queer horror flicks all centered on LGBTQ experiences and protagonists – from which you may pluck a chiller this Hallows' Eve. Or whenever you want to watch 'em. Horror films, unlike Christmas ones, have no date restrictions.
Seed of Chucky (Dir. Don Mancini, 2004)
Listen. I lived through the Aughts and remember being terrified of Chucky. Yet I constantly Googled pictures of him and Tiffany to try and glimpse their aesthetic – the over-the-top goth and carnage of these killer dolls – because it spoke to me. Seed of Chucky follows the progeny of Tiffany and Chucky – the plucky but conflicted Glen … or Glenda … but definitely not Shitface – on a quest to find who they truly are. Written and directed by Don Mancini, a gay creator who gave us Chucky and all his plastic toy terror, the film packs in everything you want from a scary movie: Mindless kill scenes, each escalating in creativity until John Waters gets his face melted by photo chemicals; Jennifer Tilly doing Jennifer Tilly stuff; a throwaway joke about Martha Stewart being executed; and the bizarre but heartfelt attempts of a cis gay man to describe genderfluidity. What this entire movie captures is the queer compulsion toward muchness; Mancini claimed his first draft was even turned down for being "too gay." I say there's no such thing as too gay – not in horror at least. Turn off your brain and embrace the queer cacophony.
All Cheerleaders Die (Dir. Lucky McKee, 2013)
This movie is a very good episode of Riverdale. What's that concept look like? Well, a good episode of Riverdale is a clumsy but genuine attempt at art, something trying so hard to make a statement while also being fun to watch. Despite a semi-rote concern about popularity that initially drives the movie, All Cheerleaders Die is operating on a level higher than its genre demands – layering the struggles of a young lesbian, the evils of toxic masculinity and rape culture, and the aches of teendom amongst the gore-laden gross-outs of a movie about cheerleaders raised from the dead. Are we talking about something made with a deft hand – a masterpiece of cinema? No! This is an incredible episode of Riverdale, bolstered by having a queer romance, ravenous cheerleaders, and a soundtrack of knock-off pop songs to really make your season kick-off pool party steamy.
Knife + Heart, or Un couteau dans le cœur (Dir. Yann Gonzalez, 2018)
Oh, to see a re-creation of pre-Eighties gay pornography large and shot on 35mm: It is what a person lives for. At least, if you're a big queer one like me. Following the rotted, limping corpse of porno director Anne (Vanessa Paradis) and her editor Loïs' (Kate Moran) relationship while also tracking the horrific, yet pointedly aesthetic murders of Anne's star actors by a masked man, Knife + Heart oozes queerness from film stock. Gay men in short shorts, or no shorts at all, swan in and out of frame, tender in their kisses and then sharp in their fear. A beautiful movie whose horror grows from its mix of nightlife neon and gothic imagery, thrumming discotheques, and a graveyard with a constant visitor, Knife + Heart is a queer horror to put on while wine drunk, and maybe a little sore over your ex. You might not believe in love anymore, but you'll believe in the power of sexy, synthy M83-scored cinema.
The Hunger (Dir. Tony Scott, 1983)
The Hunger is, as Wikipedia describes, an "erotic horror film." And with Catherine Deneuve's vampire waltzing into scenes dripping predatory grace, and her lovers of diverse identities – including a debonair David Bowie and butch-lite Susan Sarandon – being so magnetic onscreen, one never questions why a mortal might take the vampire's bite. But this blood ritual isn't an all-in-one package: While immortality is granted, any person turned by Miriam isn't guaranteed eternal youth. Something hits different when you watch queer characters onscreen see their lovers waste away in front of them, unable to stop such a terrible fate from happening. Watching the film unfold, there's an echo of the qmmunity's shared haunting by the AIDS epidemic – like a vampire lurking and mourning everything lost.
The Lost Boys (Dir. Joel Schumacher, 1987)
We won't belabor the point: If you've seen these Santa Clara vamps, you know why we're here; if you haven't, its gay rights that you be given a copy of this film. I know it's not textually a gay movie as there's no boys kissing or girls smooching. But we must include it all the same. Joel Schumacher didn't have sex with up to 20,000 men for people to leave The Lost Boys off a list about queer horror movies. Everyone gets at least one subtext-laden horror movie to laud as "actually gay when you really think about it," and this is mine. It's what Joel and his 20,000 partners would want. Watch it for the sensual way Kiefer Sutherland says "Michael" to Jason Patric's tough-guy protagonist, or the glitter and grime of a boardwalk infested with bloodsuckers and Eighties consumerism (interchangeable, to be honest). Just don't watch if you're eating noodles; something's a little wormy about them anyway.
---
Now before we say goodbye on this Hallows' Eve, please remember to look up the films before you watch to see if there is triggering content for you. Everyone is different, so do a Does the Dog Die search and make sure you'll stay safe this spooky season.
A note to readers: Bold and uncensored, The Austin Chronicle has been Austin's independent news source for over 40 years, expressing the community's political and environmental concerns and supporting its active cultural scene. Now more than ever, we need your support to continue supplying Austin with independent, free press. If real news is important to you, please consider making a donation of $5, $10 or whatever you can afford, to help keep our journalism on stands.
READ MORE
More by James Scott
Qmmunity advises on what local places are best for gay gift shopping this year
Dec. 8, 2023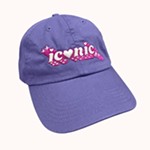 Gifts for the els, bees, gees, and teas – and the pluses!
Dec. 7, 2023
KEYWORDS FOR THIS POST
The Lost Boys, Gay Christmas, The Hunger, All Cheerleaders Die, Seed of Chucky, Knife+Heart, Queer Halloween Films
MORE IN THE ARCHIVES