Summer of Pride Reading List
Standout new(ish) books for Stonewall's 50th anniversary
Sure, when we think about Pride it's all rainbows and glitter and celebratory parties, but it's also a 50+ year movement, rich with history, queer tales, and stories to put Hollywood to shame.
Many historians, LGBTQ scholars, and queers have been writing about and documenting the LGBTQ rights movement since that first high heel was thrown – quite literally kicking off the movement – in June 1969.
It's no wonder that this summer, in the rainbow haze of the Stonewall Riots' 50th anniversary, that a slew of books from fiction to history have been released to capture that past half century. By no means is this an exhaustive list, but the Qmmunity team reviewed a handful of books that caught our eyes for our Summer of Pride Reading List. Read on for the ones that captured our hearts.
Matthew Riemer and Leighton Brown
$20-40
From the queers who brought @lgbt_history into our instagram feeds, comes a gripping, historic, and beautiful book on "protest, power, and pride in the history of queer liberation." Trust, it'll make all the other coffee tables jealous. But Riemer and Brown's We Are Everywhere isn't just easy on the eyes – sure, the photographs of Marsha P. Johnson, Sylvia Rivera, and those inspired by them will draw you in – it's the well-researched story and the thoughtful use of a complicated language of a movement that'll keep you reading. – Sarah Marloff
James Polchin
$26
We all understand what makes a good crime story – thrill, intrigue, an edge of violence, and a dash of romance. People have long devoured these thrillers, including in the decades before Stonewall when hate crimes against queer men were covered in this way. Polchin's book illuminates the dark side of true crime reporting. He has called his research "its own detective story," as he decoded the language of old newspapers, medical and psychological writing, and early examples of gay rights activism. Full of specific, brutal tales, this is a captivating and troubling read. – Nick Yeager
Andy Campbell
$24.99
Andy Campbell's Queer X Design is a road-map toward the heart of LGBTQ aesthetics and community. Our visual pasts, laid out with clear, insightful additions from Campbell, run in complex tracks toward a strange queer aesthetic present embodied by contrasting corporate hegemony and protest artistry. Take a moment, study what Campbell provides in his book, and go forth with renewed passion to make LGBTQ art your own way. – James Scott
Tanya Boteju,
$18.99
In this endearing QPOC YA novel, Tanya Boteju covers the many anxieties of queer adolescence with wisdom, humor, and kindness. When central character Nima suddenly becomes immersed in the drag scene on the other side of her small town, her surroundings, and her cocoon, open up. I won't tell you any more. As Sorceress Deidre, the first drag queen Nima meets, proclaims: "Darling, life is so drastically bereft of exquisite surprises – I wouldn't dare steal this one from you." – N.Y.
Samantha Allen
$27
Samantha Allen, a GLAAD Award-winning journalist and senior reporter for The Daily Beast, blends road trip reportage with personal essay to craft a decidedly queer portrait of the vibrant LGBTQ communities thriving – and enacting change – in red states across the country. This isn't to say that Allen doesn't acknowledge the dark realities queer and trans people endure in these locales (she does); however, by pushing back against the pervasive narrative that being LGBTQ in places like Utah or Tennessee is unbearable, Allen contends that queer communities are perhaps even stronger in such states because there's still so much work to do in achieving equality. It was a reminder of why this reviewer loves living Real Queer deep in the heart of Texas. – B.S.
A note to readers: Bold and uncensored, The Austin Chronicle has been Austin's independent news source for over 40 years, expressing the community's political and environmental concerns and supporting its active cultural scene. Now more than ever, we need your support to continue supplying Austin with independent, free press. If real news is important to you, please consider making a donation of $5, $10 or whatever you can afford, to help keep our journalism on stands.
READ MORE
More by Beth Sullivan
Closing the chapter with OUTsider Fest and more queer events
Feb. 18, 2022
Limon-Mercado, Lockhart vying to be county's next elections official
Feb. 18, 2022
More by James Scott
Qmmunity advises on what local places are best for gay gift shopping this year
Dec. 8, 2023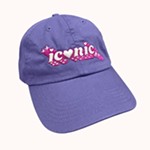 Gifts for the els, bees, gees, and teas – and the pluses!
Dec. 7, 2023
More by Nick Yeager
SF anthology feature shows lives as limitless as nature
Aug. 26, 2019
Chinese-Spanish drama embraces its theatrical magic
Aug. 26, 2019
KEYWORDS FOR THIS POST
Summer of Pride, We Are Everywhere, LGBT History, Andy Campbell, Queer X Design, Tanya Boteju, James Polchin, Indecent Advances, Matthew Riemer, Leighton Brown, LGBTQ History, Stonewall Riots, Stonewall 50, Real Queer America, Samantha Allen
MORE IN THE ARCHIVES