SXSW LGBTQ Pro Tips: UPDATE
Finding community in the land of overstimulation
Welcome to Austin! (or… if you live here, Welcome to the Gordian Knot of Sensory Overload!)
Whether you are a veteran or a complete n00b virgin, have we got the clues for you. Welcome to The Gay Place's SXSW 2015 guide to all things LGBTQIA.
GAY PLACE LISTINGS UPDATE
Each year for SXSW, The Gay Place, the Austin Chronicle's weekly guide to all things LGBTQIA, strives to find as many events of interest to queer communities, home native and visiting. The conference itself has steadily grown its programming in our areas.
When we first posted this guide last week, our Chronicle website was fresh off a shiny new redesign, and a few elements on the /gay page were in need of extra attention. Now they are ready for your full use!
Our landing page is home to the weekly "Gay Place" column in print, the daily "Gay Place" blog, a portal to the live (and somewhat massive), ongoing database of LGBTQ calendar listings sorted by date, our current roster of gay bars, clubs, and other fun diversions, the gAyTX Fun Guide, and so much more.
Also, while you are in town (or after!), please do like our Gay Place page on Facebook, friend Dandy Campbell (née Unicornn), and feel free to email us directly with your questions at gayplace@austinchronicle.com about LGBTQ Austin.
SXSW, LGBTQ DFW STYLE
In Austin, DFW does not stand for Dallas-Fort Worth (unless you are going home for the holidays). It stands for
Down for What?!
Yes, we know there's a gay ghetto where you come from; a place where you can romp, and frolic, and prancercize. Austin has no such place.
Austin is such a place. We are down for whatever. Of course, this is not to throw your guard off, but rather to say that Austin is diffuse in its gheyness. We're everywhere – north, south, east, west, even on dirty Dirty Sixth (usually attending our friends' bachelorette parties, mostly because we think it's funny to see a straight girl willingly cover herself in plastic flashing penii).
OK, so now you know about us. What about you? You're here during the SXSW melee, and we'd like to help you find your herd.
USING SXSW TOOLS
Badge-holders at SXSW likely already know all about the wonders of
SXsocial
. If you don't, it's a great way to mark all the events you intend to catch throughout the fest, and then share that list with pals. Do it! It's fun! Even the general public can peruse the
full SXSW schedule
(cut-and-paste your favorites to create your own list). The search box at the top right corner is your gateway to niche-ville.
Obvious searches, like "LGBT," "LGBTQ," and "gay," can help you find what you need to ensure a gay ol' time. We don't think you can get all boolean on its ass, but perhaps typing in "boolean on its ass" will unearth a showcase or panel you never imagined you'd find.
Additionally, your good ol' buddy, The Austin Chronicle also offers this elegant, easy to access, SXSW 2015 Schedule version in a rainbow of hues. (We're almost sure that the rainbow aspect is a total coincidence.) Single word searches here not only show panels and showcases, but prioritize a list of fellow SXSWers with your keyword in their profile. Stalk-tastic!
TRANSPO
Sure, we could quip about Austin traffic like all the rest of those dipshiddy
Ten! Best! Worst! Things! About! Austin!
lists, and how transportion options like cabs, buses, ubers, lyfters, and tiny blue smart cars at some point
all get stuck in traffic
, but let's cut to the chase: If you are going to be stuck in traffic, you might as well enjoy the most fabulous view this town has to offer while stuck on the road.
We don't know how to say this without blustering into the crass objectification of some of hardest working folks of festival season, but holy nalgas, lezbehonest: Austin Pedicabbers got glutes for days.
At eye level.
Boy/girl howdy! Just don't be a stiff. Be sure to talk to them about rates before putting your own butt in the seat, then be sure to tip. And we say: Add an embarrassingly huge tip if they get you where you're going with a touch of panache, some helpful advice, the speed of a courier, or just the finest ass you're likely to see up-close-and-personal all week (unless you heed our advice in the next few graphs).
PUBLIC RELATIONS
No, we're not coming to your damn launch… When we say "Public Relations," we mean "public" "
relations
" wink wink, bump-bump… oh forget it.
Let's spell it out: Austin's best places to cruise:
In Austin during SXSW, our No. 1 recommended best place to cruise is: Waiting in line. We all do it. To land a seat at that film screening, to get into that keynote, to witness the secret Veruca Salt show (OK, that's not happening this year…). Of course for the male of the species, the variety of geo-location apps like Grindr and Scruff will help you, but we suggest a hands-free approach (as per the new driving regs in Austin).
Use your eyes – spot a hottie and mouth the words "Meeting Room 8-C. NOW." Whether it's the Convention Center with its maze of hallways and bathrooms (assume the wide-stance, and if someone taps on the partition in the rhythm of The Golden Girls theme, assume it's us), or the backside of the Paramount (yeah, we know you're in line to see Mavis! too, so what are we gonna do about it?), or hanging out near the back fence of one of the many "really cool"® day parties (the perfect place to not be seen). Of course there's an art to cruising, but for now, let's just say Emma Lazarus didn't mean what you think she meant when she called out the … ahem, huddled masses.
SAFETY FIRST
Speaking of safe-words: We want you to keep it safe, no matter what you're doing. But if what you're doing is the dirty, we of course have resources.
Young, dumb, and full of … This is a job for our friends at The Q Austin. We cannot emphasize enough how much we want you to be a return visitor. Please play safe. The dudes at the Q have everything you need. A couple years ago for Pride they transformed into the wilderness safety patrol (a la smokey the bear, or your cute faggy former cub scout self) in their Camp Q Crew campaign, handing out condoms and merit badges like champs.
This SXSW they're putting the focus on Syphilis with a series of graphic ads and SXSW Swag Sex Bags. They know, as sure as we do, that there's only so much you can get from panels and screenings… some needs just have to be met outside the convention center, theatre, club, et al. Stick with us: Oh, the places you will cruise (more on that later).
Stay tuned. We got upcoming posts featuring fabooo local LGBTQ-owned businesses, cruising spots, hints for how to dress for success, and more. Happy SXSW!
---
Still craving more unicorn wisdom? Hang with the Gay Place. There's more in store throughout SXSW. Also, feel free to hit us up directly at
gayplace@austinchronicle.com
A note to readers: Bold and uncensored, The Austin Chronicle has been Austin's independent news source for almost 40 years, expressing the community's political and environmental concerns and supporting its active cultural scene. Now more than ever, we need your support to continue supplying Austin with independent, free press. If real news is important to you, please consider making a donation of $5, $10 or whatever you can afford, to help keep our journalism on stands.
READ MORE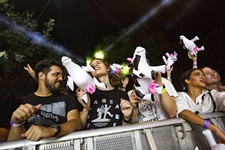 Federal program gave $130 million to over 100 local businesses
Rachel Rascoe, Oct. 22, 2021
Lucasfilm, Patreon, WWE all sending speakers for 2022
Richard Whittaker, Oct. 19, 2021
More by Kate X Messer
Getting some free cake on LBJ's birthday is a rich tradition
Aug. 26, 2021
You can't keep a Gay Place down; just ask Sarah Marloff
Jan. 20, 2016
More by Andy Campbell
It was the year that was.
Jan. 1, 2016
In the wake of HERO's overturn, Houston's vulnerable left vulnerable
Nov. 4, 2015
KEYWORDS FOR THIS POST
SXSW 2015, gay, LGBTQ, SXSW, South by Southwest, cruising, survival guide
MORE IN THE ARCHIVES