GayBiGayGay Line-Up Announced!
Here's what we know about the line-up at the annual free post-SX gay fest
By Kate X Messer, 12:00PM, Wed. Mar. 6, 2013
Have you laundered your perfect picnic blanket? Amassed your crew? Picked out a cute outfit? Because, really that's all you are going to need since GayBiGayGay's got everything else under control.
Lezdeez and gentlequeers, we present to you, courtesy of Silky and Hazey, the line-up for GayBiGayGay 2013.
(Not in actual order; they like to keep you guessing!)
Light Asylum
Avan Lava
Christeene
Double Duchess
Bonaparte (from Berlin)
The Dead Ships
Nakia
Spires That in the Sunset Rise
Lonesome Leash
Bitterheart Society
Lord Douglas Phillips reunion show featuring Two Nice Girls and Girls in the Nose, and more!
Yo Majesty
Abdu Ali
Fantasy featuring Khattie q
Jimmy Jean Fontenot
PLUS: Some unannounced surprise guests! Stay tuned.
...also featuring performances by the Psychopomp, Poo Poo Platter, Workout with Erica Nix, and Aron Taylor photobooth, live art installations by Rachael Shannon and Jason Rosen.
Plus: The "Burger She Wrote" Grill, beer, wine, and BYOB, too. Facepainting! Tabling by local community orgs and non-profits Free HIV testing ... and magick. :)
(check back later for links and pics and more!)
GayBiGayGay happens Sunday, March 17, noon-midnight at 3506 Rogge Lane, Austin, Texas. Booyah.
A note to readers: Bold and uncensored, The Austin Chronicle has been Austin's independent news source for almost 40 years, expressing the community's political and environmental concerns and supporting its active cultural scene. Now more than ever, we need your support to continue supplying Austin with independent, free press. If real news is important to you, please consider making a donation of $5, $10 or whatever you can afford, to help keep our journalism on stands.
READ MORE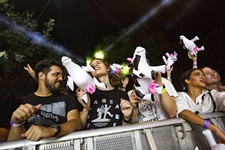 Federal program gave $130 million to over 100 local businesses
Rachel Rascoe, Oct. 22, 2021
Lucasfilm, Patreon, WWE all sending speakers for 2022
Richard Whittaker, Oct. 19, 2021
More by Kate X Messer
Getting some free cake on LBJ's birthday is a rich tradition
Aug. 26, 2021
You can't keep a Gay Place down; just ask Sarah Marloff
Jan. 20, 2016
KEYWORDS FOR THIS POST
GayBiGayGay, queer, music, SXSW, festival
MORE IN THE ARCHIVES