TheGlitoris' Top TraXXX for the Week of November 2
Top traXXX for you to get your whacks.
By The Glitoris, 3:45PM, Tue. Nov. 2, 2010
Mmmmm grrrrrrllll, we got some good sh*t for you to ass clap to. U figna' be blown away.
This week, Cee-lo Green of Gnarls Barkley success, released a brand new preview for his upcoming single "Bright Lights, Bigger City." This is the second single off his new album, The Lady Killer, which is due out November 9.
The Haus of Glit (aka our office) has been listening to Ceelo's new album on repeat. Every song is pretty catchy, nothing too progressive though. It's more of an old-fashioned template, like Ceelo's version of Amy Winehouse's Back to Black album.
Another November album release that's making us wet, comes from, Mizz Nicki Minaj. Nicki Minaj has rapped on 22 music videos, yet hasn't released an album on her own.
In 2008, the she-rapper was named, "Best Female Artist," at the Underground Hip Hop Music Awards. Since the notoriety, she was signed to Young Money Records, which is owned by Li'l Wayne. After meeting (rapping with) all of Li'l Wayne's friends, Minaj will release her debut album, Pink Friday, on November 22. This past weekend she released "Roman's Revenge" via itunes. The track features Eminem, and is the fourth official single from the album. Nicki and Cee-lo top off:
theGlitoris' top traXXX for the week of TuezGay, November 2:
1. "Bright Lights, Bigger City" Cee-Lo Green
2. "Roman's Revenge" Nicki Minaj featuring Eminem
3. "Th?nk" TRONIK YOUTH
4. "Shake Right" b.e.b.
5. "Sacred Temple" N.E.R.D.
6. "Through the Prism" Designer Drugs
7. "Waulking Song" Totally Enormous Extinct Dinosaurs
8. "Son of a Gun" Oh Land
9. "Losing my Patience" Shit Robot
10. "Never Stop Dancing" Golden Bug featuring Esser
This upcoming weekend, Join theGlitoris.com & Knuckle Rumbler, for a special Fun Fun Fun Fest After Party at the Scoot Inn, featuring performances by b.e.b., Katey Red, Queen DIVA herself, and Austin's own Christeene.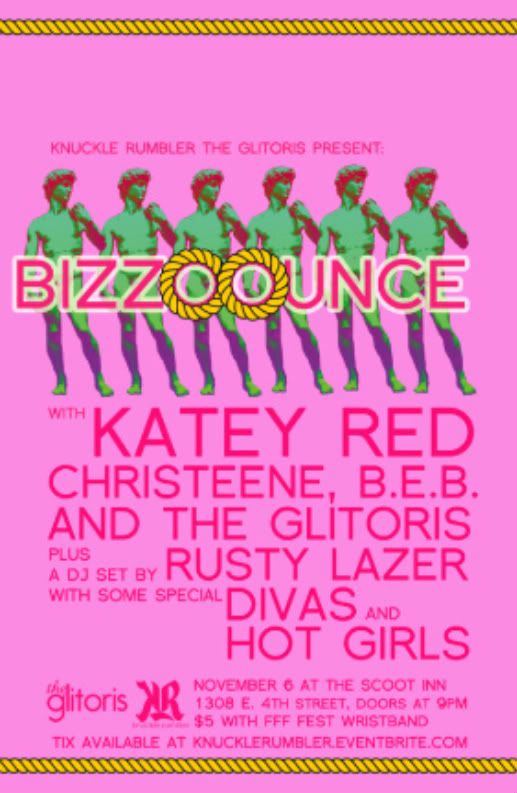 A note to readers: Bold and uncensored, The Austin Chronicle has been Austin's independent news source for over 40 years, expressing the community's political and environmental concerns and supporting its active cultural scene. Now more than ever, we need your support to continue supplying Austin with independent, free press. If real news is important to you, please consider making a donation of $5, $10 or whatever you can afford, to help keep our journalism on stands.
READ MORE
More Music
Even with weakened chops, the HoFers enjoy each other's company
Mike Clark-Madison, Sept. 22, 2022
A,E,I,O,U, and sometimes Y am I doing this?
Rob Cohen, May 6, 2015
More Dance party
And if it gets a little crazy, well, hey
Wayne Alan Brenner, July 19, 2012
Jimmie D, Oct. 4, 2010
More by The Glitoris
Blow your mind (and your load) with NYC-based, Gang Gang Dance
April 14, 2011
As publications reflect back on 2010, theGlitoris looks to 2011.
Dec. 17, 2010
KEYWORDS FOR THIS POST
Dance party, Austin, gay, music, homo, lesbian, bisexual, transgendered, music, lifestyle, top 10, theGlitoris, mussy
MORE IN THE ARCHIVES