https://www.austinchronicle.com/daily/qmmunity/2009-08-03/817926/
Gay New York: Pilgrimage to Stonewall
By Andy Campbell, August 3, 2009, 10:18am, Qmmunity
No trip to New York would be complete without a drink at (no duh) the Stonewall Inn. Even though the bar has gone through several incarnations, the current Stonewall Inn is about as close as you're going to get to the real thing.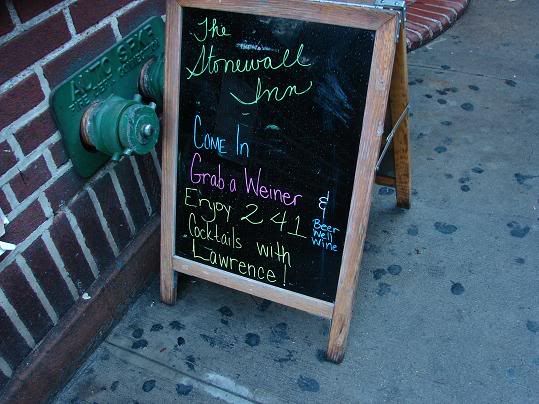 Saw the signboard outside – and yes, I think I would like to grab a weiner – and so went inside, and had a beer and a hot dog. Got a little teary-eyed thinking about how far we've come and about how much more we have to do. It was… to be honest… depressing. Mostly I just drank my beer (Brooklyn Lager!) and ate in silence, happy to be soaking in the moment.
Afterwards I headed across the street to the tiny but wonderful Christopher Park, where amongst the benches is George Segal's sculptural memorial to gay and lesbian rights activists. The memorial consists of two pairs of (very 70s looking) bronze people. I've never been crazy about this memorial, but then, I've never been crazy about George Segal. The memorial is well-suited to the site, and so I felt differently after seeing it.
Copyright © 2022 Austin Chronicle Corporation. All rights reserved.