Gay New York: Pilgrimage to Stonewall
Forty years of gay struggle, one tasty beer.
By Andy Campbell, 10:18AM, Mon. Aug. 3, 2009
No trip to New York would be complete without a drink at (no duh) the Stonewall Inn. Even though the bar has gone through several incarnations, the current Stonewall Inn is about as close as you're going to get to the real thing.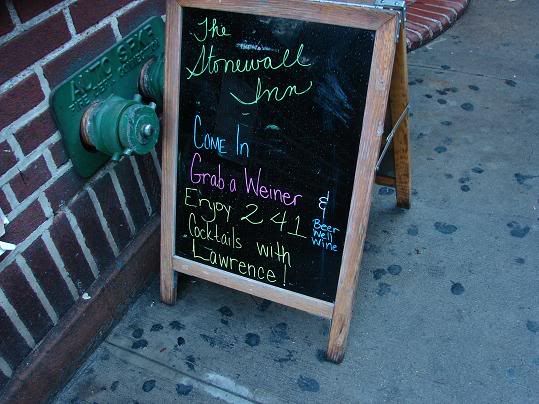 Saw the signboard outside – and yes, I think I would like to grab a weiner – and so went inside, and had a beer and a hot dog. Got a little teary-eyed thinking about how far we've come and about how much more we have to do. It was… to be honest… depressing. Mostly I just drank my beer (Brooklyn Lager!) and ate in silence, happy to be soaking in the moment.
Afterwards I headed across the street to the tiny but wonderful Christopher Park, where amongst the benches is George Segal's sculptural memorial to gay and lesbian rights activists. The memorial consists of two pairs of (very 70s looking) bronze people. I've never been crazy about this memorial, but then, I've never been crazy about George Segal. The memorial is well-suited to the site, and so I felt differently after seeing it.
A note to readers: Bold and uncensored, The Austin Chronicle has been Austin's independent news source for over 40 years, expressing the community's political and environmental concerns and supporting its active cultural scene. Now more than ever, we need your support to continue supplying Austin with independent, free press. If real news is important to you, please consider making a donation of $5, $10 or whatever you can afford, to help keep our journalism on stands.
READ MORE
More Art
Old Masters and new whiz kids all have a home here
March 3, 2017
Because sometimes, a regular hat just doesn't cover it
Lawrence Everett Forbes, Jan. 17, 2014
More by Andy Campbell
It was the year that was.
Jan. 1, 2016
In the wake of HERO's overturn, Houston's vulnerable left vulnerable
Nov. 4, 2015
KEYWORDS FOR THIS POST
Art, Stonewall Inn, New York, George Segal, Christopher Park, Weiners, gay, NYC, Andy's NY trip, LGBT, bronze people
MORE IN THE ARCHIVES