Gay New York: Big Gay Ice Cream Truck
The house-mother of soft-serve.
By Andy Campbell, 9:54AM, Mon. Aug. 3, 2009
So I'm walking in Union Square a couple days ago and I see this…
Um. No joke, it's the Big Gay Ice Cream Truck.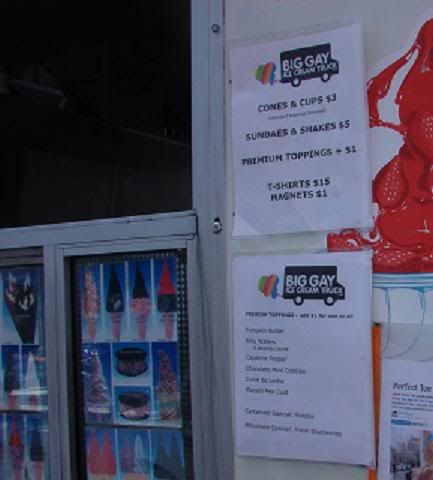 It was the best vanilla softserve topped with Nilla wafers I've ever had. And the gayest!
A note to readers: Bold and uncensored, The Austin Chronicle has been Austin's independent news source for over 40 years, expressing the community's political and environmental concerns and supporting its active cultural scene. Now more than ever, we need your support to continue supplying Austin with independent, free press. If real news is important to you, please consider making a donation of $5, $10 or whatever you can afford, to help keep our journalism on stands.
READ MORE
More Food
And helping us stay grounded in 2019
Emily Beyda, Jan. 23, 2019
We live on the face of the sun, and chewing takes energy
Emily Beyda, Aug. 7, 2018
More by Andy Campbell
It was the year that was.
Jan. 1, 2016
In the wake of HERO's overturn, Houston's vulnerable left vulnerable
Nov. 4, 2015
KEYWORDS FOR THIS POST
Food, New York, Big Gay Ice Cream, Nilla Wafers, Soft Serve, ice cream, gay, NYC, Andy's trip to NY, vanilla
MORE IN THE ARCHIVES