GayBiGayGay Line-Up!!!!!
It's finally released!
By Kate X Messer, 9:04PM, Sun. Mar. 15, 2009
OK, so that nine or so hours we just spent online on thousands of MySpace queer band pages trying to cull this list for THE PEOPLE could have been condensed down to the 30 seconds or so it took for that email that Koonce just sent out, but either way, the GayBiGayGay line-up is here!
Without further ado:
GAYBIGAYGAY Sunday, March 22
1-1:20 Agent Ribbons
1:30-1:50 Dangerous Ponies
2-2:20 Polka Dotdotdot
2:30-2:55 Gretchen Phillips
3:05-3:15 Christeene
3:25-3:50 Butch County
4-4:20 Dave End
4:30-4:50 Storm Shelter
5-5:25 Purple Rhinestone Eagle
5:35-6 Maple Rabbit (maybe later for projection reasons)
6:10-6:35 Excuses for Skipping
6:45-7:10 Romanteek
7:20-7:45 Big Freedia (Sissy Bounce)
Watch this space over the next few days for even more details.
A note to readers: Bold and uncensored, The Austin Chronicle has been Austin's independent news source for almost 40 years, expressing the community's political and environmental concerns and supporting its active cultural scene. Now more than ever, we need your support to continue supplying Austin with independent, free press. If real news is important to you, please consider making a donation of $5, $10 or whatever you can afford, to help keep our journalism on stands.
READ MORE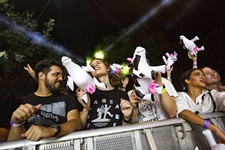 Federal program gave $130 million to over 100 local businesses
Rachel Rascoe, Oct. 22, 2021
Lucasfilm, Patreon, WWE all sending speakers for 2022
Richard Whittaker, Oct. 19, 2021
More by Kate X Messer
Getting some free cake on LBJ's birthday is a rich tradition
Aug. 26, 2021
You can't keep a Gay Place down; just ask Sarah Marloff
Jan. 20, 2016
KEYWORDS FOR THIS POST
SXSW 09, SXSW, GayBiGayGay 2009, Gay Bi Gay Gay, Kitty, Eastside, Hazey, line up, GLBT music
MORE IN THE ARCHIVES