Rock & Royalty
The Austin Music Awards were changed forever by a lanky old guy named Pete.
By Kate X Messer, 8:21AM, Thu. Mar. 15, 2007
You'll find more thorough coverage of last night's surprise appearance of Pete Townshend at the Austin Music Awards elsewhere, but GP wanted to weigh in with a quick li'l howdy and a "We Were There" and a we are so glad we were.


Pete's collaboration with former Faces dude Ronnie Lane resulted in a masterpiece that is a formative slab of wax for me, Rough Mix, a work that melds the minds of two brilliant songwriters while defining their individual creative space in the framework of sweet ballads (Lane's "Annie") and heart-rending epics (Pete's "Heart to Hang on To") is one of the greatest comings together of rock royalty and one the finest moments in rock history. Last night's mini-set was in tribute to the late Lane by fellow former Face (and now Austinite) Ian MacLagan.

Onstage last night at the convention center, I teared up a bit whenever Pete and hunky bassist Mark Andes (Spirit, JoJo Gunne, Firefall, Heart) would line up next to each other and both squat down in that legendary Chuck Berry deep knee bend to trade licks. You can't fake that kind of glee. Their boyish buoyancy defied those well-earned years. I wish we had gotten closer for a better pic, but feel pretty fortunate to have seen what I saw. What a dang night.

While this is neither the time nor blog to carry on about the significance of last night's AMA surprise, I will say this: These awards are for Austin. And every time a rock god or musical hero passes through, it honors our heritage and our continuing tradition as one of the world's foremost musical estuaries. It validates us as the landmark we are. Last night's teeny glimpse (two songs, let's not go too nuts) has left its mark.
A note to readers: Bold and uncensored, The Austin Chronicle has been Austin's independent news source for almost 40 years, expressing the community's political and environmental concerns and supporting its active cultural scene. Now more than ever, we need your support to continue supplying Austin with independent, free press. If real news is important to you, please consider making a donation of $5, $10 or whatever you can afford, to help keep our journalism on stands.
READ MORE
From retro horror to COVID survival, the best of the fests
Richard Whittaker, Jan. 7, 2022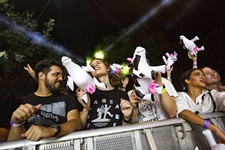 Federal program gave $130 million to over 100 local businesses
Rachel Rascoe, Oct. 22, 2021
More by Kate X Messer
Getting some free cake on LBJ's birthday is a rich tradition
Aug. 26, 2021
You can't keep a Gay Place down; just ask Sarah Marloff
Jan. 20, 2016
KEYWORDS FOR THIS POST
SXSW, Austin Music Awards, Pete Townshend, Ronnie Lane, Ian MacLagan
MORE IN THE ARCHIVES