Gee Pee at da Ess Exxx
The Gay Place hits South by and launches a blog.
By Kate Getty, 9:51PM, Thu. Mar. 8, 2007
It's like Where's Waldo, but this time it's two dykes, one sporting government-issue black-rimmed specs, the other, a floppy rat tail tipped in blond. Find us. Tap us on the shoulder, shake a hand, buy a drink (or three), and toast to all the good times to be had. We're here. We're queer. We're going to a festival.

At least that's the plan. Things change. Lines suck, showcases shock and surprise. Boy, will those pedi-cabs make a killing, back and forth, all around Downtown we go. Here's the dish, where we think we're going, which acts tickle our fancy … and other parts.

Here's where one of us (and maybe the other of us) might just be for the Music Festival part. Come join the fun.

Click below to get to the sched.

Getty's Plan

Wednesday, March 14
Sparkle Motion 8pm, Beerland
Jana Hunter, 9:30pm, Central Presbyterian Church
The Mountain Goats, 11pm, Emo's Main Room
Blonde Redhead, 12am, Emo's Main Room
Peter, Bjorn and John, 12am, La Zona Rosa
Spoon, 1am, Antone's

Thursday, March 15
Kid Beyond, 8pm, Elysium
The Moaners, 9pm, Continental Club
Aqueduct, 12am, Buffalo Billiards
Menomena, 1am, Buffalo Billiards
My!Gay!Husband!, 1am, Elysium

Friday, March 16
Peaches, 12am, Exodus
The Faint, 12:30am, Eternal
Sharon Jones & the Dap Kings, 12am, Antones
Young Love, 1am, Exodus

Saturday March 17
Jandek, 7pm, Central Presby Church
Sharon Jones and the Dap Kings, 9pm, Emo's Annex
The Cliks, 10:30, Momo's
The Pipettes, 11pm, Beauty Bar Patio
Lesbians on X, 11:10pm, Exodus
The Pinker Tones, 11pm, Karma
Girl Talk, 1am, Elysium
Junior Senior, 1am, Exodus
Black Angels, 1am, Mohawk
A note to readers: Bold and uncensored, The Austin Chronicle has been Austin's independent news source for almost 40 years, expressing the community's political and environmental concerns and supporting its active cultural scene. Now more than ever, we need your support to continue supplying Austin with independent, free press. If real news is important to you, please consider making a donation of $5, $10 or whatever you can afford, to help keep our journalism on stands.
READ MORE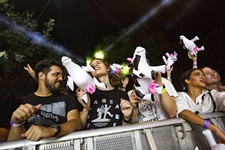 Federal program gave $130 million to over 100 local businesses
Rachel Rascoe, Oct. 22, 2021
Lucasfilm, Patreon, WWE all sending speakers for 2022
Richard Whittaker, Oct. 19, 2021
More by Kate Getty
Homophobia shown over same-sex dancing couple on awful show.
May 26, 2009
It's coming soon. June 8 is the release date.
May 19, 2009
KEYWORDS FOR THIS POST
Music, Film, SXSW, K8x, Kate, gay news, Austin, queer, gay, lesbian
MORE IN THE ARCHIVES