Bomb in Southwest Austin Is Fourth in Past Two Weeks
Two in hospital with non-life-threatening injuries
An explosion in the Southwest Austin neighborhood of Travis Country sent two men to the hospital on Sunday night. They're reported to be in stable condition.
Details of the incident, which occurred just before 9pm on Dawn Song Drive, are still unclear – and Austin Police Chief Brian Manley acknowledged as much during two separate media briefings in the neighborhood overnight – but the explosion is being investigated by APD and assisting federal agencies as another bombing. It's the fourth bombing incident in Austin in the past two weeks. (There was also a bomb threat Saturday night at Fair Market that proved to be unfounded.)
Manley said investigators won't begin canvassing the neighborhood in earnest until the sun comes up on Monday morning, and APD has asked those who live in Travis Country to stay inside their homes until 10am unless they have an emergency they must attend to. Austin ISD won't be sending buses to the neighborhood this morning; any late arrivals or absences resulting from that plan will be excused by the school district.
Manley stressed the preliminary nature of the investigation at a second media briefing around 1:30am on Monday morning, acknowledging certain media reports that a tripwire detonated the package. This particular package was unlike the packages that killed Anthony House and Draylen Mason, and injured Esperanza Herrera: It was located at the entrance to the neighborhood, and, if reports of a tripwire are true, was constructed differently than the other three.
"That changes things in that our safety message to this point has been involving the handling of packages," said Manley. "We now need the community to have an extra level of vigilance and pay attention to any suspicious device, whether it be a package, a bag, or anything that looks out of place."
A note to readers: Bold and uncensored, The Austin Chronicle has been Austin's independent news source for almost 40 years, expressing the community's political and environmental concerns and supporting its active cultural scene. Now more than ever, we need your support to continue supplying Austin with independent, free press. If real news is important to you, please consider making a donation of $5, $10 or whatever you can afford, to help keep our journalism on stands.
READ MORE
More Austin bombings
Suspect blew himself up early Wednesday as officers closed in
Chase Hoffberger, March 21, 2018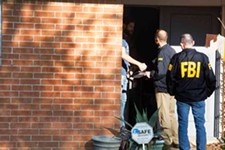 Rumors and research after an uneasy week
Nina Hernandez, March 17, 2018
More by Chase Hoffberger
Local journo Alex Hannaford's Dead Man Talking podcast investigates the case against a man on death row
Nov. 16, 2018
Association to cast ballot between incumbent Tony Marquardt or challenger Selena Xie
Nov. 16, 2018
KEYWORDS FOR THIS POST
Austin bombings, Brian Manley, bomb
MORE IN THE ARCHIVES