Winter Weather Emergency Update
Who's open, who's closed for the cold snap in Austin
Winter is headed back to Austin with a vengeance tonight, with freezing conditions and the potential for snow (depending which forecast you look at) into Wednesday. We'll be keeping you up to date on closures, resources, and information.
Local Government
6pm
• The Austin-Travis County Emergency Operations Center will activate at 10pm to coordinate all emergency responses.
• Austin Energy advises all residents to keep their homes above 68 degrees. To follow any power outages, register on your phone: to find out how, go to www.austinenergy.com.
• Williamson County has announced that all county offices will be closed Tuesday. The Williamson County Commissioners Court will reschedule their meeting from Tuesday to Thursday morning.
Update: 6:42pm: The City of Austin will be closed Tuesday. All city offices, including Austin Municipal Courts and the Downtown Austin Community Court will be closed all day.
Update: 8pm: Now Travis County has followed suit, and its offices will be closed on Tuesday. The Commissioners Court, which was supposed to convene in the morning, will meet when weather allows.
Education
6pm
• School closures are already being announced. So far, Del Valle, Leander, Pflugerville, and Round Rock ISDs have canceled all classes and events for Jan. 16. Both Leander and Round Rock have announced they will make announcements about any decisions for Wednesday by close of business Tuesday.
• Only one university, Texas State, has canceled Tuesday classes, at both the San Marcos and Round Rock campuses.
Update: 6:44pm: And here comes the big one. Austin ISD will be closed. AISD Board President Kendall Pace just tweeted, "Based on information from the National Weather Service & the Travis County Emergency Operations Center, @AustinISD is cancelling all classes & activities for January 16, 2018. Stay safe!!"
Update: 8pm: Looks like the universities are now following suit with the school districts. UT-Austin has canceled all classes and events (meaning no UT shuttles), and only essential personnel need to report for work.
•
St. Edward's University
will also be closed, with food service for residential students at the South Congress Market in the Ragsdale Center.
• Austin Community College is also closing all campuses across the district.
• Concordia University is closing all its campuses statewide.
Transport
6pm
• TxDOT has been preparing roads for potential ice since Sunday: Drive carefully, not least since TxDOT trucks are still out and often moving slowly.
• Austin-Bergstrom International Airport has already warned travelers that there could be serious delays and cancellations starting tonight, including the potential for overnight delays. Check the arrivals and departures page for real-time updates.
• Carshare firm Car2Go is reported to be suspending service at 10pm tonight until weather improves.
Update: 7pm: After dropping down to Saturday service for MLK Day, Capital Metro has announced it will only be running Sunday service on Tuesday, with no MetroRail or MetroExpress service at all.
Update: 8pm: Both the UT shuttles and the St. Ed's Chariot Shuttle Service will stop running on Tuesday.
Update: Tuesday, 9:30am
• The City of Austin now reports that, after closure due to ice, the I-35 upper deck has now reopened.
In unrelated news, both the @AISDclosures and @evilMOPAC Twitter accounts are in overdrive. Neither are real news sources, but they are invaluable ways to pass the time as the weather worsens.
Got something to say? The Chronicle welcomes opinion pieces on any topic from the community. Submit yours now at austinchronicle.com/opinion.
A note to readers: Bold and uncensored, The Austin Chronicle has been Austin's independent news source for over 40 years, expressing the community's political and environmental concerns and supporting its active cultural scene. Now more than ever, we need your support to continue supplying Austin with independent, free press. If real news is important to you, please consider making a donation of $5, $10 or whatever you can afford, to help keep our journalism on stands.
READ MORE
More by Richard Whittaker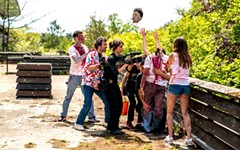 French remake of beloved Japanese movie-making comedy adds a little
Sept. 30, 2022
Wall-to-wall Godzilla in the new show, opening tonight
Sept. 30, 2022
KEYWORDS FOR THIS POST
Austin, Weather, Car2Go, Round Rock ISD, Pflugerville ISD, Leander ISD, Del Valle ISD, ABIA
MORE IN THE ARCHIVES