Nine Reasons Why Trump Is in Austin
Deciphering the most baffling campaign stop of 2016
Scrying in a crystal ball. Observing chicken entrails. Reading the tea leaves. All about as useful as political science to understand why Donald Trump is spending today in Austin.
This afternoon, the Republican presidential candidate will fly in to Austin for a two-hour taping with Sean Hannity (notable: this event is closed to the press, which explains why Fox News is running it) before heading over to the 25,000 capacity Luedecke Arena for a 7:30pm rally.
This triggered two questions. One, what's the Luedecke Arena (answer: it's at the Travis County Expo Center). Two, why would Trump come to Austin, of all places?
Clearly, he needs votes, and lots of them. And Hannity is virtually an adjunct of the Republican campaign, and seemingly deployed solely to keep the king of extemporization and duke of off-the-cuff goofs on his talking points. But why do it in Austin? Does Trump think he's going to win over one of the most solidly Democratic counties in Texas? Does his campaign not realize that this is one of the most solidly Democratic counties in Texas? Is his campaign that inept? Does he just not care, and he's flying to cities that sound interesting, then sticking his campaign with the bill?
The answer to all those questions is, "Well, maybe." Having seen the gross illogicality and lousy strategy deployed to date, all those options make a modicum of sense. But then, so do all of these:
• To find out what the TPPF is: Diversity has been a perpetual issue for Trump's campaign. Last week, he was pummeled by Democratic presidential rival Hillary Clinton for having an economic advisory council best described as "six guys named Steve." So his response was to revamp the body with nine new names, eight of them women. On the list was Texas Public Policy Foundation president and CEO Brooke Rollins.
Yes, cue the sound of slamming brakes. Anyone think that Trump knew what the TPPF was a week ago? Well, maybe, because the TPPF is little more than a viciously pro-free market front operation for the whims of GOP sugar daddy James Leininger and, more recently, the Koch Brothers. Eh, maybe he just wants to see their new offices on Congress, which manage the remarkable architectural trick of being gaudily ostentatious and depressingly dull at the same time (much like many Trump structures).
• He thinks Austin is Dallas: Maybe he's read all those comments in every forum saying the ATX is becoming too much like the Big D?
• Follow the money: After this week's New York Times examination of Trump's finances, there's a big question about whether he's as able to fund his own campaign as he claimed. That makes his fundraising stop at the Headliners Club (ostensibly squeezed in between Hannity and the Expo Center, but the original declared purpose of this trip) all the more intriguing.
• To troll Matt Mackowiak: The definitive Texas Republican insider (former press secretary to Sen. Kay Bailey Hutchison turned free-roving conservative talking head and Dem-baiter) has shifted his target from the Obama administration to the Trump candidacy. His Twitter feed has become a constant tirade against the damage the nominee has inflicted upon the party he has spent so long building up (Example: "Trump has declared war on the Republican Party. He is determined to punch through the floor and see how low he can go"). He even penned a column for The Hill titled "Trump's Loss Could Make the GOP Extinct."
In his frustration, Mackowiak has laid out the list of what states Trump should concentrate on: hold what he called the Romney states (North Carolina, Arizona, Georgia, Utah), work hard on the classic battleground states (Florida, Ohio, and Pennsylvania). Moreover, he lists which ones he should stop wasting time upon: Connecticut, New York, Maine, California, Colorado, and Virginia, safe Democratic strongholds all. It's hard to imagine how frustrating Mackowiak must feel knowing that, 90 days out, Trump is wasting time in a state he will hold easily.
When asked via Twitter if Trump is just trolling him, Mackowiak called it "the only logical conclusion."
• Mackowiak's wrong, and Texas is in play: Or, conversely, Mackowiak is right, and the situation is so dire that the presidential nominee needs to shore up support in the reddest of red states.
Conventional wisdom is that Texas should be a stronghold of such indomitable conservatism that even Trump should be able to hold it. But that latest Public Policy Polling presidential poll has Trump only up by six points in Texas.
That's the headline number, but there are several details to put that into context. The full numbers are: Trump/Pence 44%, Clinton/Kaine 38%, which means Trump can't even break 50%. More worrying for his campaign is that the remaining 18% aren't undecided: 2% are backing the Green Party slate, and 6% going Libertarian.
Both the GOP and Democrats have contended with and benefited from these third parties (for example, the mysterious decision of conservative activists to orchestrate ballot access for the Greens in 2010). But then the GOP establishment took advantage of the Tea Party until the Tea Party took over. If more mainstream Republicans turn to the Libertarians as the free market/less crazy option, then that six point lead disappears into margin-of-error territory.
Add on top that, Trump's aggressive anti-migrant rhetoric and increasingly overt appeals to racist factions may finally be the key to motivating increased Hispanic turnout in Texas. That said, having Trump campaign in the Lone Star State seems more likely to reduce his lead than re-enforce it.
• Gentrification on steroids: Think that duplexes in East Austin have wrecked communities? Wait until the developer that killed Atlantic City gets a hold of the place. After all, once he's finished running a wrecking ball through the GOP, he'll have plenty of spare time on his hands.
• It's the only place that will have him: Ted Cruz may have played official party-pooper at the Republican National Conference, but Trump still seems to have broader support among recognizable office holders than in most other states. Lt. Gov. Dan Patrick, Agriculture Commissioner Sid Miller, Land Commissioner George P. Bush, and former Gov. Rick Perry have all varied between outright endorsement and at least passive support.
Bush, for example, has not formally endorsed Trump, but has still called on Republicans to vote for him. Meanwhile Patrick's backing seems less like political kinship, and more like the kind of wishful thinking that has plagued the party since Trump's nomination. As reported by Patrick Svitek of the Texas Tribune, Patrick told Texas RNC delegates, "So often we have a candidate who tries to shape us. Donald Trump is allowing us to shape him." Yeah, good luck with that one.
However, that may be less about full-throated support, and more about survival. If Trump falls, then the down-ballot effect could be catastrophic for the state party. Their fates are now impossibly intertwined: As Texas GOP Chairman Tom Mechler recently said, "This is a Trump party now."
• Franklin: Maybe he's really, really excited about barbecue. Maybe he thinks he can find the guy he believes founded ISIS, still there, high-fiving the staff. Maybe he wants to go to qui before it closes. Or maybe he just wants to ask Paul Qui about rebranding, since he doesn't seem to believe campaign pros on the issue. At this point, that makes about as much sense as anything.
Got something to say? The Chronicle welcomes opinion pieces on any topic from the community. Submit yours now at austinchronicle.com/opinion.
A note to readers: Bold and uncensored, The Austin Chronicle has been Austin's independent news source for over 40 years, expressing the community's political and environmental concerns and supporting its active cultural scene. Now more than ever, we need your support to continue supplying Austin with independent, free press. If real news is important to you, please consider making a donation of $5, $10 or whatever you can afford, to help keep our journalism on stands.
READ MORE
More Election 2016
the News Staff, Nov. 8, 2016
Elections division meets demand with semi-permanent mobile location
Richard Whittaker, Oct. 31, 2016
More Donald Trump
As 2020 campaign begins, the president promises massive deportations
Michael King, June 19, 2019
State's senior senator on Trump's short list to head Bureau
Richard Whittaker, May 15, 2017
More by Richard Whittaker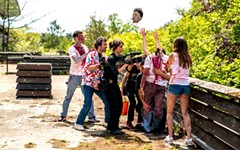 French remake of beloved Japanese movie-making comedy adds a little
Sept. 30, 2022
Wall-to-wall Godzilla in the new show, opening tonight
Sept. 30, 2022
KEYWORDS FOR THIS POST
MORE IN THE ARCHIVES