Lee Elementary Still Lee Elementary
Campus renaming debate still rumbles on the AISD board
Time to update your address book: Robert E. Lee Elementary is now Russell Lee Elementary, ending the campus' artificial link to the Confederacy and instead paying tribute to a seminal chronicler of Great Depression poverty and UT-Austin's first photography instructor.
The 8-1 vote by the Austin ISD Board of Trustees ended a local argument that had gone national – and that, by raw coincidence, came the day before San Diego School Board Trustees renamed their Robert E. Lee Elementary as Pacific View Leadership Elementary.
Illinois-born Lee became famous as a photographer during the Great Depression for the Farm Security Administration, documenting working life and poverty in the South and Southwest during the Thirties and Forties, before working for the Air Transport Command during World War II, and the Department of the Interior, chronicling coal mining communities. In 1947, he moved to Austin, becoming the first instructor in photography at UT-Austin in 1965. He died in 1986, and parts of his collection are stored at UT's Dolph Briscoe Center for American History.
The Austin debate began last year, when the district began discussing the merits of naming a campus after the commander of the Confederate Army of Northern Virginia – or any Confederate soldier. It was a long slog for what seemed like a bureaucratic nicety (first the board had to adopt a renaming process) but in April they voted to start accepting recommendations for the new name.
This lead to brief national hilarity and more somber debate after the online poll turned up a mix of conservative political posturing (Donald Trump, the Adolf Hitler School for Friendship and Tolerance), local heroes (Elisabet Ney, Richard "Cactus" Pryor), and the downright comedic (Schooly McSchoolface). That was whittled down to a list of 10, which was then handed to the Lee Campus Advisory Committee to boil down to a short list of three.
The finalists were:
• Russell Lee
• Bettie Mann, Lee's first African-American teacher
• Wheeler's Grove, the original name of nearby Eastwoods Park and site of early Juneteenth celebrations
At Monday's board meeting, the short list was reaffirmed by Lee CAC co-chair Ryan Bates as three equals, not a top recommendation and two backups. In the same breath, he added that he was personally most in favor of Russell Lee.
There were other voices, including students, that spoke instead in favor of Mann. The veteran teacher was there and seemed overjoyed to have simply been nominated. In fact, she told the board that the highlight of the whole process had been knowing her grandchild had heard her name on television.
Ultimately, the board went with the CAC's unofficial favorite, Lee, but also managed to honor Mann by naming the school's kindergarten hall after her.
However, the decision was not met with unanimity. The sole opponent to the decision was board vice-president Paul Saldaña, who stated that he believed Mann was a far more fitting honoree.
The debate didn't end with the vote. On Tuesday, Saldaña posted an Instagram of himself with Mann, adding a sobering statistic. Out of the 102 AISD campuses named after individuals, 78 are named after white people, 12 after African-Americans, 12 after Hispanics, and zero after Asian-Americans.
Saldaña has already made it clear that he does not think the naming issue is over. While Lee may be settled for the moment, earlier during the debate there had been discussion about four other campuses: Sidney Lanier High, John H. Reagan High, Eastside Memorial High School at the Johnston Campus (for being named after men who served in the Confederacy), and William B. Travis High (mainly because of the name of its football team, the Rebels). Saldaña has already said that he believes they will come up again, amid a discussion of how to make the district more reflective of its student body.
However, that may not be as easy as it sounds. The Lee renaming was brought forward by the Lee community and came with broad support. Yet Robert E. Lee was one of the most important figures in the Confederacy, while the arguments about the others are far more complicated. After the Civil War, Reagan was pivotal in Texas' reconstruction and rejection of the articles of Confederacy; Lanier spent most of the war in a military prison and is far more noted as an academic and poet than sailor; and the inclusion of Johnston's name in Eastside was to ensure a connection to the campus' legacy after the last time it was renamed.
Moreover, Lee was selected for change in part because renaming a small elementary costs a fraction of what it takes to change the signs and headed stationary for a high school. As the district faces ever-tightening budgets, that bill is a large concern.
To learn more about Russell Lee, read our 2003 profile, "A Mutual Respect."
Got something to say? The Chronicle welcomes opinion pieces on any topic from the community. Submit yours now at austinchronicle.com/opinion.
A note to readers: Bold and uncensored, The Austin Chronicle has been Austin's independent news source for over 40 years, expressing the community's political and environmental concerns and supporting its active cultural scene. Now more than ever, we need your support to continue supplying Austin with independent, free press. If real news is important to you, please consider making a donation of $5, $10 or whatever you can afford, to help keep our journalism on stands.
READ MORE
More Austin ISD
Short-time superintendent leaves budget, morale crises behind
Morgan O'Hanlon, May 22, 2022
After July 1 deadline, 77 evaluations still not complete
Clara Ence Morse, July 7, 2021
More Paul Saldana
Interim superintendent now eligible to become permanent CEO
Richard Whittaker, Dec. 9, 2014
Candidate profile sets desirable qualities, lacks specifics
Richard Whittaker, Sept. 3, 2014
More by Richard Whittaker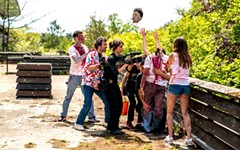 French remake of beloved Japanese movie-making comedy adds a little
Sept. 30, 2022
Wall-to-wall Godzilla in the new show, opening tonight
Sept. 30, 2022
KEYWORDS FOR THIS POST
Austin ISD, Paul Saldana, Russell Lee Elementary
MORE IN THE ARCHIVES