Fill a Bowl for Stickland
State rep's stoner past comes out in primary
Straight-edgers of Texas, rejoice! You can legitimately claim that notorious gun nut Rep. Jonathan Stickland is not one of you. Old forum posts have emerged, courtesy of his primary opponent, that show he used to hang around on web forums looking for weed-smoking buddies, and asking for help on passing a drug test.
Stickland is a notorious thorn in every Texas legislator's side. The 2013 Young Conservatives of Texas rookie legislator of the year started the 84th session by almost scuppering his own open carry legislation, and finished with a near-fist fight with House Calendars Committee chair Byron Cook. Republicans were so mad at him that they regularly let two Democrats – House Appropriations chair Sylvester Turner and House Appropriations chair Joe Pickett – punk him out in committee and on the floor. He's such a notorious pain that former Gov. Rick Perry has emerged from his post-presidential failure torpor to endorse his primary opponent, Scott Fisher
The thing with Stickland is that he thinks he's an iconoclast, but he's more of a bull in a china shop. So Fisher's campaign used that very establishment against him, releasing forum posts from 2001-02 from marijuana.com to the venerable and respected capitol news source, Quorum Report. In one, under the screen name Stick, Stickland writes, "Howdy from Texas all :) Was wondering if anyone lived in the Dallas Fort Worth area and loved to smoke da green. Looking for a smoke buddy...."
The tragedy of this is, of course, that Stickland had to go online to find someone to light up with (a savage indictment of the man, the metroplex, or both). The following year, he doubled down, writing, "I am very seriously wanting to grow some of my own stash but am totally clueless on what to do."
Whoever has been doing oppo research for the Fisher campaign clearly has earned their money, and Stickland quickly responded. However, he didn't deny that he made the postings, instead going for a Clintonesque "smoked but didn't inhale" slicing of the baby. After all, Stickland has already played to the pro-legalization libertarian wing of the GOP by saying that weed prohibition is a civil liberties issue. At the same time, the traditional conservatives aren't ready for a toker on the ballot.
So Stickland released an angry statement admitting that he regularly smoked marijuana in high school and college (Huh. Maybe that's why he dropped out of both). However, he had stopped smoking after the birth of his first daughter in 2006. Pushing his children further into the fray, he said he was appalled that they had to be exposed to such negative campaigning against their daddy over something he stopped doing in 2006. He wrote, "It makes me sick to my stomach that my little girls will have to face these attacks for the next 60 days."
The Fisher campaign seemingly resisted the immediate impulse to simple respond, "Dude, mellow out." Instead, they release more forum posts, this time from 2008 … two years after Stickland claimed he had started cleaning up his act. This time he posted on fantasy football site FFtoday.com that he needed some advice on how to pass an employer-mandated drug test. His solution? Take two Stinger detox drinks and hide them in a bottle of blue Powerade.
Of course, this is a complicated issue for many taking a little joy in Sticky's discomfort. Bad as he has been, Democrats can scarcely expect much better from former Texas Juvenile Justice Department board chief Fisher, a long standing Perry consigliere and therefore scarcely a screaming liberal. At the same time, it's tough for the supposed pro-liberty, anti-government GOP to take too much pleasure in Stickland's torture, especially since the party's election machine loves a good old story of chemical redemption (cf George W. Bush, Jeb Bush, Ted Cruz, George Pataki, Newt Gingrich, et al). And, honestly, blazing all day and night would be the least of the sins committed by a man whose career has been marked by obstructionist, anti-choice, anti-health, and anti-law enforcement votes and bills.
But those quandaries aside, it still puts Stickland a long way away from his wild claim earlier this year to the Texas Tribune that, as much as much of his own party despises him, "every one of these guys is going to be asking for my help in the next Republican primary."
Got something to say? The Chronicle welcomes opinion pieces on any topic from the community. Submit yours now at austinchronicle.com/opinion.
A note to readers: Bold and uncensored, The Austin Chronicle has been Austin's independent news source for over 40 years, expressing the community's political and environmental concerns and supporting its active cultural scene. Now more than ever, we need your support to continue supplying Austin with independent, free press. If real news is important to you, please consider making a donation of $5, $10 or whatever you can afford, to help keep our journalism on stands.
READ MORE
More 84th Legislature
Do Texas concealed handgun rules break the Second Amendment?
Richard Whittaker, July 7, 2016
Long-awaited ruling says school funding system constitutional
Richard Whittaker, May 13, 2016
More Jonathan Stickland
Curtains down for the notoriously belligerent legislator, aka Sticky
Mary Tuma, June 24, 2019
More by Richard Whittaker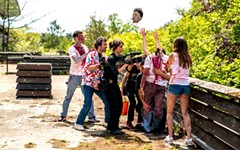 French remake of beloved Japanese movie-making comedy adds a little
Sept. 30, 2022
Wall-to-wall Godzilla in the new show, opening tonight
Sept. 30, 2022
KEYWORDS FOR THIS POST
84th Legislature, Quorum Report, Scott Fisher, Primary election 2016, Marijuana, March 2016 election, Jonathan Stickland
MORE IN THE ARCHIVES