Red Line Adds Trains, Subtracts Crowding
$50 million TxDOT grant adds trains, improves Downtown station
While Austin roils with the argument over whether or not to run a new light rail up Red River, the Texas Department of Transportation is granting $50 million to the existing MetroRail Red Line from Downtown Austin to Leander, to reduce crowding during rush hour, extend service hours, and upgrade the Convention Center station.
On June 26, the TxDOT board approved the grant to Cap Metro to cover two pivotal investments on the line:
• $28 million for four new rail cars, allowing increased service capacity and hours.

• $22 million to replace the existing single platform Downtown Station at the Convention Center, converting it into two platforms with three lines. The state grant will cover between two-thirds and just under half of the total cost of the station, estimated to come in at between $35 million and $50 million. (The existing station was only ever intended to be temporary, and the permanent replacement will reduce crowding.)
Train capacity is a simple equation. Take a line. Put stop and warning lights along its length. Now you can put one train between each set of lights. So that means number of lights times number of trains times number of seats on each train, and that's your total maximum capacity. If you want to increase how many people you can carry, there are only two real options, other than adding more lights: Bigger trains to carry more passengers, or more trains to carry more people.
Now Cap Metro's problem is that it runs Stadler GTW diesel-electric light regional railcars. Unlike the traditional train, they are a fixed unit, meaning they can't simply add extra carriages. So their only option is to add more trains. Since the route is a single track, shared by both north- and south-bound trains for much of its duration, this also means adding more passing places along the route, to allow for easier passage. That money comes from a 2013 Transportation Investment Generating Economic Recovery (TIGER) grant from the U.S. Department of Transportation.
Between line and signal improvements for commuter and freight rail, plus the additional double tracking, the agency estimates commuter time will be cut by between five and 10 minutes. With the addition of the extra trains, plus the reconstructed Downtown station, Cap Metro will also be able to increase the regularity of the service, increasing it from one train every 34 minutes during rush hour to once every 15 minutes, plus a late train running after 7pm.
Sen. Kirk Watson, D-Austin, who has been working with TxDOT chair Ted Houghton on the grant, welcomed the investment. He said, "It's encouraging that TxDOT is looking for and supporting multimodal strategies to help tackle our congestion challenges. It's not possible to meet the demands of a thriving economy and fast-growing population by only investing in roads. We need to embrace every available option to provide relief."
This is undoubtedly a shot in the arm for rail advocates in Austin and for Cap Metro. It's timely, considering the city is pushing forward with its light rail proposal on the November ballot: After all, the Red Line was written off initially as a white elephant, which would never really see passengers. Now the major current complaints are an old one about who it serves (that it's really a commuter route for non-Austinites), and the related concern that there is a lack of stops within Austin city limits, (particularly the big gaps between the stations at MLK and Highland, and Crestview and Kramer.)
Got something to say? The Chronicle welcomes opinion pieces on any topic from the community. Submit yours now at austinchronicle.com/opinion.
A note to readers: Bold and uncensored, The Austin Chronicle has been Austin's independent news source for over 40 years, expressing the community's political and environmental concerns and supporting its active cultural scene. Now more than ever, we need your support to continue supplying Austin with independent, free press. If real news is important to you, please consider making a donation of $5, $10 or whatever you can afford, to help keep our journalism on stands.
READ MORE
More Cap Metro
Buses re-routing to Guadalupe-Lavaca corridor
Richard Whittaker, June 3, 2014
Buses are free as APD announces a midweek no-refusal crackdown
Richard Whittaker, Dec. 31, 2013
More transit
What's on the council agenda?
Wells Dunbar, Sept. 21, 2010
More by Richard Whittaker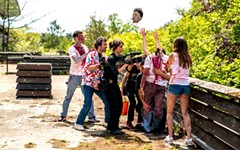 French remake of beloved Japanese movie-making comedy adds a little
Sept. 30, 2022
Wall-to-wall Godzilla in the new show, opening tonight
Sept. 30, 2022
KEYWORDS FOR THIS POST
Cap Metro, transit, MetroRail, Red Line, Texas Department of Transportation, TxDoT, US Department of Transportation, Kirk Watson, Convention Center, Transportation Investment Generating Economic Recovery, TIGER Grant, Stadler GTW, Ted Houghton, Light Rail
MORE IN THE ARCHIVES