Doggett on War and Peace
Austin Congressman counsels against attack on Syria
By Michael King, 4:24PM, Fri. Aug. 30, 2013
As the drums of war in D.C. beat furiously once again, Austin Congressman Lloyd Doggett spoke out against precipitous and unilateral U.S. action, and demanded that the Obama Administration first seek war authority from Congress.
U.S. Rep. Doggett, D-Austin, was at the Carver Museum Thursday night to attend a campaign event supporting Travis County Judge candidate Andy Brown. But he was eager as well to discuss another matter pressing on the national public consciousness (and conscience): the prospect of a U.S. military attack on the Syrian regime of President Bashar al-Assad. Asked if he believes we are going to war yet again, Doggett responded quickly, "Not with my vote."
Doggett was less confident that the Obama Administration would hesitate to attack yet-unidentified Syrian infrastructure with long-distance cruise missiles – as has been repeatedly threatened the last few days. Moreover, he noted that thus far the Administration has made no attempt to bring to Congress a resolution or proposal to make war on Syria – as required under the U.S. Constitution and the War Powers Act – instead only "consulting" by phone with "Congressional leadership" and defending potential military action to a small group of designated Congressional representatives.
(On Friday, Sec. of State John Kerry issued a public statement on the evidence concerning Assad's use of chemical weapons against civilians, and invited the support of the American people – but there has been no move to make a formal presentation or request to Congress.)
"President Bush 'consulted' with similar Congressional leaders on Afghanistan and Iraq," said Doggett. "That is insufficient. I believe we have to hold this Administration to the same standards that we held the Bush Administration."
Doggett was strongly skeptical that any military action can be limited to the "precise" and "surgical" dimensions routinely described by the Administration and its supporters. "We seem not to have learned any lessons from Afghanistan and Iraq," said Doggett. "Most importantly, we seem to forget that it's much easier to get into a war than to get out of a war. We have spent so much blood and treasure there, over many years, with so little justification or good outcome."
Doggett said he supported to some degree the earlier U.S. action in Libya, because it was not unilateral and was restrained within reasonable limits. "But that was to prevent a humanitarian disaster," he continued. "In Syria, the humanitarian disaster has already occurred." He said that the U.S. might have done more, earlier, to address matters in Syria – including perhaps even the distribution of arms to rebel groups – but that now the situation has deteriorated to the point it's unclear how anything the U.S. does might help a move toward peace or justice, especially an isolated military strike. "There simply doesn't seem to be any justification for direct military action," Doggett said, "particularly because it's not at all clear how that would improve matters. I think it would be counter-productive to U.S. national interests, and even counter-productive for the interests of the Obama Administration."
Whatever happens, Doggett insisted, it should not happen without the direct approval of the U.S. Congress, as required by law. "The executive always wants to act on its own, without restrictions, and without a democratic vote," he said. "That's not new with Obama. But it sets a terrible precedent, and it's unjustified." We can't forget, he said, how the Bush Administration described its invasion of Iraq as a matter of "only a few days, or weeks." Again, he insisted, wars get out of hand very quickly, yet the consequences can be grim and long-lasting.
Doggett emphasized he was not remotely attempting to defend the actions of Assad or the Syrian government. "I think Assad is a war criminal, who has committed crimes against humanity," he said. "But that's all the more reason to be careful in our response. We could easily create a situation in which Assad can say, 'I took the worst U.S. hit, and I'm still standing.' Then what do we do?"
"I had very mixed feelings about Syria early on," Doggett continued. "And there do not appear to be any good solutions. But firing off a few cruise missiles seems like doing something just so we can say we did."
Asked if he thought his position was a minority in the Democratic House caucus, Doggett said, "I don't know." He noted that there has been Republican opposition as well – "not always from the best perspective, but in opposition to anything Obama does" – and that (along with more than 50 other Democrats) he had signed on to a letter to the Administration circulated by California Rep. Barbara Lee arguing against a rush to war and requesting Congressional oversight. "We must learn the lessons of the past. Lessons from Iraq, Afghanistan, Libya, and others," wrote Congresswoman Lee. "We must recognize that what happens in Syria does not stay in Syria; the implications for the region are dire." (More than 100 other representatives, including about 20 Democrats, had signed a similar letter circulated by Virginia Republican Scott Rigell; Doggett said he not done so because he disagreed with the letter's version of the Libyan conflict.)
Doggett said that his objection to the proposed attack on Syria is both about the military consequences and the legal implications. "This is not simply [Obama's] war," Doggett said. "This is the sort of thing that can linger and spread, and have enormous consequences beyond Syria. Moreover, this continues an executive practice of exercising more and more authority without Congressional oversight, without even much pretense of collaboration. A phone call 'consulting' with the leadership is simply not enough."
Doggett said he could not predict what's going to happen in the next few days, although he hoped that the Thursday rejection of an immediate military response by the British Parliament might also slow the momentum for war. "If action is necessary, it needs to be done with broad, international support," he said. "Not a unilateral firing off of missiles in the belief that there will be no consequences or backlash, or wider war." He recalled the persistent efforts of the late Texas Congressman Bob Eckhardt on behalf of the War Powers Act, the quixotic attempt by the Congress to rein in the Nixon Administration during the Vietnam War.
"Bob Eckhardt," concluded Doggett, "was a great man."
A note to readers: Bold and uncensored, The Austin Chronicle has been Austin's independent news source for almost 40 years, expressing the community's political and environmental concerns and supporting its active cultural scene. Now more than ever, we need your support to continue supplying Austin with independent, free press. If real news is important to you, please consider making a donation of $5, $10 or whatever you can afford, to help keep our journalism on stands.
READ MORE
More Lloyd Doggett
Is that fidget spinner really a killing machine?
Michael King, Nov. 27, 2017
Lloyd Doggett on Trump, the future, and the responsibility of citizens
Michael King, Jan. 12, 2017
More Syria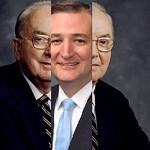 Texas senator praises the grand obstructionist and bigot
Richard Whittaker, Sept. 12, 2013
More by Michael King
Fraud settlements backed by whistleblower complaint
Sept. 30, 2020
Longtime House rep foregoes run-off, emphasizes Dem party unity
July 31, 2020
KEYWORDS FOR THIS POST
Lloyd Doggett, Syria, Obama Administration, Bob Eckhardt, War Powers Act, U.S. Constitution
MORE IN THE ARCHIVES