Early Start for Senate Abortion Debate
Capitol doors open at 7am for committee hearing sign up
It'll be an early start for anyone giving testimony on Senate Bill 1 – the new restrictions on reproductive rights and abortion provision – at the Senate Health and Human Services Committee on July 8: Testimony starts at 10am, but sign-up opens at 9am. Expect the lines to be long when the Capitol opens at 7am.
The committee usually either meets in the Senate chamber or room E2.020. This time, they're taking over E1.036, normally assigned to the Senate Finance Committee. That's down in the Capitol Extension (go into the main building, then take the elevators down to E1, and go all the way to the far end of the underground extension.
Last week, when the House State Affairs Committee heard its own version of the bill, speakers were limited to three minutes each, and testimony was cut off at midnight. Tomorrow, the Senate will allow only two minutes per speaker (if you think that's limited, it's pretty clear that Lt. Gov. David Dewhurst wanted a formal hearing with no testimony at all). For anyone planning to hand in written testimony, the committee clerk requests that they provide 20 copies with their name on each.
Republicans are getting gully about reducing abortion access, much of it either following Texas' line or blazing a trail for the Lone Star State's new restrictions. Wisconsin governor Scott Walker has signed a bill requiring transvaginal ultrasounds (much as Texas passed in 2011), but he beat the Texas GOP on the requirement that abortion providers have admitting privileges. North Carolina lawmakers went one better, bolting abortion restrictions on an anti-Sharia law bill (making it a GOP twofer). On the national stage, according to the Weekly Standard, Sen. Marco Rubio, R-Florida, plans to introduce a 20-week abortion ban in the US Senate soon.
Got something to say? The Chronicle welcomes opinion pieces on any topic from the community. Submit yours now at austinchronicle.com/opinion.
Read more of the Chronicle's decades of reproductive rights reporting here.
A note to readers: Bold and uncensored, The Austin Chronicle has been Austin's independent news source for over 40 years, expressing the community's political and environmental concerns and supporting its active cultural scene. Now more than ever, we need your support to continue supplying Austin with independent, free press. If real news is important to you, please consider making a donation of $5, $10 or whatever you can afford, to help keep our journalism on stands.
READ MORE
More 83rd Legislature
Will the Senate strip the powers of the next lite guv?
Richard Whittaker, June 5, 2014
State policies endangering women's lives in the Valley
Jordan Smith, Nov. 12, 2013
More Abortion
No wonder why repro rights groups are using the mantra "Lies Into Laws"
Mary Tuma, April 24, 2019
Dems strike last minute deal after hours of chubbing
Richard Whittaker, May 27, 2015
More by Richard Whittaker
Telling a love story without the "I love you"
Oct. 7, 2022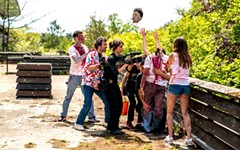 French remake of beloved Japanese movie-making comedy adds a little
Sept. 30, 2022
KEYWORDS FOR THIS POST
83rd Legislature, Abortion, Special Session, Reproductive Rights, Wisconsin, Marco Rubio, Scott Walker, Abortion Rights
MORE IN THE ARCHIVES