Time to Google Mark Strama
Retiring rep heads to Google Fiber, will not run for mayor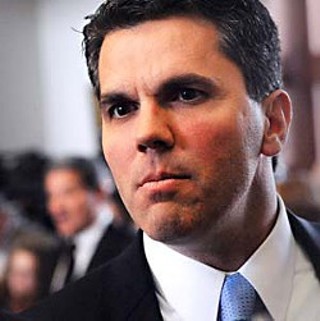 Last night, during the Senate Bill 5 debate, there was a significant moment from the House. It was quite possibly the last time the current Travis County Democratic delegation, featuring Rep. Mark Strama, would be assembled. Strama announced in February that he was not running again. Now we know where he's going. Google Fiber.
Strama was present at the original announcement in April that the Internet behemoth was bringing its high speed Internet service to Austin, but no-one made the connection. However, this morning he announced via Twitter that " I'm not going to run for Mayor. I'm going to run Google Fiber in Austin." (Little irony there, considering back in 2009, Strama was totally anti-Tweets.)
A former staffer on the Ann Richards campaign and former chief of staff to Senator Rodney Ellis, Strama has served five terms since being elected to the House in 2004. He's also been a powerful force in electioneering, especially when it comes to technology: First as a director at Rock the Vote, and then as founder of online voter registration firm NewVoter.com, before becoming a senior vice-president at Election.com when they bought out his firm. So the shift to Google Fiber makes a lot of sense. Over on his blog Inside the Rail this morning, he wrote, "Obviously I'm pretty pumped about this. But it does mean I'm getting out of politics."
That's big news for many in Austin, who knew that Strama was at least eyeing a shot at mayor under the new single district electoral system. Strama wrote, "I had considered a run for mayor, and of course, most political observers took that as an indication that I was definitely going to run for mayor."
He was seen in many quarters as the presumptive front runner, if he had chosen to run. Smart, centrist, politically experienced, Strama was being touted as the ideal figure to lead Austin into its next, inevitable stage as a major US and global city. However, it was little secret that Strama had become disenchanted with the political processes under the dome. His brightest hour had come in 2009, when he was tapped by Speaker Joe Straus to head the green collar jobs committee. Two years later, when the Democrats took a thrashing at the hands of the Tea Party, Strama was singled out for a special indignity. Not only was he removed as chair, but the whole committee was dissolved and replaced with a technology committee under the eternally bumptious turncoat Aaron Pena. After that, and another hard slog session in which he lost his seat on the high-profile House Education committee, there were real question marks about whether he was truly excited about learning to swim in the sometimes shallow and murky waters of city politics.
Quite possibly he tipped his hand earlier this session when he stood against the school accountablity reforms in House Bill 5. That's a step that could be seen as siding with the high stakes testing forces. Considering that Strama holds franchise rights to Sylvan Learning Centers, this could have become a weak spot for him among education voters in a citywide election.
While he bid a fond farewell to the lege in his blog, Strama wrote, "I continue to be saddened by the general level of distaste and distrust the American public feels toward politicians."
Got something to say? The Chronicle welcomes opinion pieces on any topic from the community. Submit yours now at austinchronicle.com/opinion.
A note to readers: Bold and uncensored, The Austin Chronicle has been Austin's independent news source for almost 40 years, expressing the community's political and environmental concerns and supporting its active cultural scene. Now more than ever, we need your support to continue supplying Austin with independent, free press. If real news is important to you, please consider making a donation of $5, $10 or whatever you can afford, to help keep our journalism on stands.
READ MORE
More Mark Strama
Dems hold on to Strama's seat in special run off
Richard Whittaker, Jan. 28, 2014
Plus the Woodlands preps for its own special election
Richard Whittaker, Nov. 21, 2013
More Google Fiber
Sign-ups begin in South, Southeast Austin today
Mary Tuma, Dec. 1, 2014
City, Google aim to bridge digital divide
Mary Tuma, Nov. 21, 2014
More by Richard Whittaker
Even in the pandemic, the city stays a home for filmmakers
Jan. 25, 2022
Inside the corporate culture that lead to two deadly crashes
Jan. 24, 2022
KEYWORDS FOR THIS POST
Mark Strama, Google Fiber, Legislature, Texas House of Representatives, Travis County, Twitter
MORE IN THE ARCHIVES