TPPF, Jim DeMint, Milton Friedman, and Me
Lunch and school choice with unholy free market triumvirate
If conservatives had invented love-ins, they would look a lot like Wednesday morning's Texas Public Policy Foundation gathering, as the movers and shakers of the conservative think tank sat in conclave with arch-Republican Jim DeMint about school choice.
There are few more bizarre experiences than a morning sat in the middle of the right wing echo chamber. That TPPF Vice President of Communications (and disgraced friend of Malaysia) Joshua Trevino knew everyone in the room during yesterday's sessions was unsurprising: That there were so few present was even less shocking. Up the road at the Texas State Capital, the Texas House of Representatives was hammering the school accountability measures in House Bill 5 into shape, walking through 165 pre-filed amendments. But this was about groundplan, about one last push for school choice legislation.
It was, for many education experts, an unholy union. Not just the TPPF, but the Friedman Foundation For Educational Choice and the Heritage Foundation, gathering to strategerize on how to get vouchers and open enrollment passed in Texas. And the trio have been dancing to the same beat for decades. They disguise it as the civil rights issue of this era (a tone deaf claim on the day that the Supreme Court of the United States is placing the Defense of Marriage Act under close scrutiny). But Chronicle news editor Michael King mentioned he had heard it all years before, when the now deceased philosopher-king of the free marketeers Milton Friedman was in town promoting vouchers. His acolytes have made little headway since then in Texas, but for King, their drumbeat stays the same: Disguising tax breaks for rich folks to send their kids to private school as 'choice'.
Hopefully this time around, someone comp'ed the lunchtime appearance by former US Senator and Heritage pres DeMint. As the conservative crew chomped down an unimpressive salad and a surprisingly tasty brown rice risotto at the Stephen F. Austin, he rattled through a pro forma recitation cribbed from the Montgomery Burns guide to public speaking ("American … Patriot … American … Patriot … Master of the atom … Scourge of the despot!") TPPF President & CEO Brooke Rollins seemed to spend longer explaining exactly how Americans should thank the Heritage Foundation over the Founding Fathers for their constitutional rights.
No, really.
"It is no exaggeration to say that what liberty we enjoy in America now, and what prosperity we retain every day, is directly or indirectly the work of the Heritage Foundation," said Rollins, proving that she may not know what 'exaggeration' means. "They took on the liberal leftist consensus of the 1970s and they tore it down," she said, crediting them for laying the intellectual groundwork for the Reagan revolution. Credit? Blame? You decide.
After that delivery, DeMint scarcely earned his stipend. The real work had probably been done that morning, when the right wing heavyweights had an invite-only early morning breakfast with another school choice advocate, Gov. Rick Perry. That could explain why DeMint delivered a brief bio about why he went to Congress and why he left, complete with the mandatory platitude that "government isn't the solution, it's the problem." Yes, people really still say that. Seriously, is the GOP totally bereft of meme generators?
The timing is significant. Just as the Heritage/Friedman/TPPF axis was touting how Texas in on the verge of huge changes, the general in charge of the offensive was readying the white flag. In the upper chamber, Senate Public Education Committee Chair Dan Patrick, R-Houston, is hedging his bets on Senate Bill 2, his omnibus school reform bill. The key concession is that he is no longer demanding an unlimited number of charter schools. Realizing that any measure opening the floodgates would be dismantled in the more cautious House, he has slipped back to a lesser proposal for a limited tiered increase over the next few years. Similarly, his grand plan for school vouchers has been hacked back into a pilot program for students with profound learning disabilities.
The whole issue is no longer being portrayed as a Republican versus Democrat deal: Instead, it's liberty versus restriction. The morning's warm-up act was a token Democrat: Former California state senator, chief of Democrats for Education Reform, and and failed candidate for California's State Superintendent of Public Instruction Gloria Romero. She had been shipped in to testify on SB2, which remains the best hope for the charter organizations to get the market they want. For a Democrat, her talking points remained very Republican. As the author of the infamous Parental Trigger Act, she put the blame for everything on the unions, and that's why she depended on the GOP to pass the Parental Trigger Act. Pinch yourself: She compared her authorship of the controversial measure to Nixon going to China. Principals, party, schmincipals, schmarties, she argued, it's all about governing. "I don't care what their position is on water or gay marriage, I just care about their position on public education."
Oh, and she delivered the standard line that California is a Democratic state (ignoring how often it has elected Republican governors). Everyone is a vested interest in her way: Superintendents, her Democratic colleagues, even her own legislative staff. She put the need for prison reform and education reform on the shoulders of the unions, which, wait for it – no-one reminded her that there are no real unions in Texas (apologies to those representing the state's employees, but they know exactly how powerless they are). Compare that to Romero's group, which is run by a mix of hedge fund managers, and has the backing of a Democratic heavy hitters like New Jersey's Corey Booker. She tried to present herself as a radical, but undercut that idea by noting that the biggest backers and enablers of education reform are President Barack Obama and Secretary of Education Arne Duncan.
I asked her directly about how she can blame powerful unions in Texas when they're as rare as a white squirrel. Her answer was less Nixon and more McCarthy. There are, she argued, reds under the education bed in Texas. Why, only recently she had met with a Texas Democrat and there was a representative of Texas-AFT in the room. Which lawmaker? She refused to say, "to protect the guilty," she added nervously and with no details. She argued that they were part of the "education blob", the nebulous gestalt of everyone who has something to gain from public ed policy. Like Pearson, I mentioned. Who, she asked. Pearson Interactive. The world's biggest text book and testing machine, the lobbyist-employing drivers behind Texas' horrific testing system. Blank stare.
No blank stares from the day's other nominal Democrat. Instead, it was wide-eyed zeal with former Congressman and failed Alabama gubernatorial candidate Artur Davis. Hah. Democrat. The event's brochure may have stressed his D credentials, but he's been an open R for the last year. His closing discussion revealed a new arrow in the quiver of the right. You can pass all the legislation that you like, but unless parents buy into it, then you'll be legislating on a fast track to nowhere. If enough parents buy in to choice, you'll win: And, then, if you don't have everyone, or even enough to pass legislation, you can always head to the courts.
This was portrayed as a shift in strategy. In fact, the GOP's grand play since Nixon has been to lard the Supreme Court with conservatives. At the same time, GOPers like Texas' own pair of US senators, Ted Cruz and John Cornyn have been slowballing judicial nominations. Republicans have been playing the court game for decades, but now they're more likely, with a few decisions going their way, to play that game more openly.
Got something to say? The Chronicle welcomes opinion pieces on any topic from the community. Submit yours now at austinchronicle.com/opinion.
A note to readers: Bold and uncensored, The Austin Chronicle has been Austin's independent news source for over 40 years, expressing the community's political and environmental concerns and supporting its active cultural scene. Now more than ever, we need your support to continue supplying Austin with independent, free press. If real news is important to you, please consider making a donation of $5, $10 or whatever you can afford, to help keep our journalism on stands.
READ MORE
More Heritage Foundation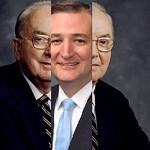 Texas senator praises the grand obstructionist and bigot
Richard Whittaker, Sept. 12, 2013
More Texas Public Policy Foundation
UT President will stay through June 2015
Richard Whittaker, July 10, 2014
Sunday on KXAN, Monday on Fox 7
Richard Whittaker, Feb. 20, 2013
More by Richard Whittaker
Comedy fest adds arena shows from Andrew Schulz, Shane Gillis
Nov. 30, 2023
Stephen Mills sprinkles seasonal magic on a beloved Christmas institution
Dec. 1, 2023
KEYWORDS FOR THIS POST
Heritage Foundation, Texas Public Policy Foundation, Joshua Trevino, TPPF, Jim DeMint, Milton Friedman, School Choice, School Vouchers
MORE IN THE ARCHIVES