What You Need to Know for New Year's Eve
Clips and quips from APD, Cap Metro, and more
By Monica Riese, 1:41PM, Sat. Dec. 29, 2012
At last, 2012 is drawing to a close. However you're ringing in the new year, here are a few things you should probably know before you head out this weekend.
From the City of Austin
The big show in town tonight is Austin's New Year, the third annual city-sponsored, family-friendly celebration that wraps up with a fireworks finale. It's being held at Auditorium Shores, and things kick off around 5pm. A few key notes:
• The event is alcohol-free.
• No parking is allowed onsite or in nearby neighborhoods.
• Cesar Chavez will be closed from MoPac to South First from 9pm to 11:30pm.
From Capital Metro
Rides on Cap Metro services will be free after 6pm on New Year's Eve – all the way through the night's last trips at 3am.
But after that, be patient: On Jan. 1, the transit service will be operating on a Sunday schedule, which means less frequent stops and no MetroRail, E-buses, Night Owls, or University of Texas shuttles.
From the Austin Police Department
In the event you decide to forgo the free bus rides and are out driving this weekend, know that APD is enforcing a no-refusal initiative from 9pm on Dec. 28 through 5am on Jan. 1. That gives the police the authority to conduct blood search warrants on any individuals suspected of driving under the influence who refuse to give a breath or blood specimen. Anyone with a blood alcohol concentration of 0.15 or higher can be charged with a class A misdemeanor and face a year in jail and a $4,000 fine.
It's been a rough year for traffic fatalities – there have been 78 so far, 26% of which have been alcohol-related – and police are trying to keep 2013 from starting on the same trend, so they're encouraging Austinites to drive safe, designate a driver, call a cab, or hop on a bus.
From the Parks and Recreation Department
Barton Springs Pool will be open on Jan. 1 from 7am to 6pm for the annual Polar Bear Plunge, which officially takes place at 10am. Get there early for coffee and donuts from the Save Our Springs Alliance starting at 9:30am. Only the south gate (accessible via Robert E. Lee Road) will be open.
---
Check out the complete Austin Chronicle guide to New Year's Eve.
A note to readers: Bold and uncensored, The Austin Chronicle has been Austin's independent news source for almost 40 years, expressing the community's political and environmental concerns and supporting its active cultural scene. Now more than ever, we need your support to continue supplying Austin with independent, free press. If real news is important to you, please consider making a donation of $5, $10 or whatever you can afford, to help keep our journalism on stands.
READ MORE
More New Year's Eve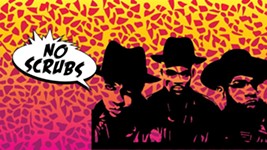 These are the many ways to say goodbye to 2017
Chronicle staff, Dec. 27, 2017
Make the last moments of 2014 count without tons of planning.
Chrontourage, Dec. 29, 2014
More by Monica Riese
Paramount and Stateside programming heats up
April 3, 2014
Announcements from the Austin Film Society
April 2, 2014
KEYWORDS FOR THIS POST
New Year's Eve, Austin Police Department, tips, safety, Capital Metro, DWI, DUI, Barton Springs Pool, Polar Bear Plunge
MORE IN THE ARCHIVES