Apple on the Table
Breaking down the AISD RIF list growth
Ever since AISD Superintendent Meria Carstarphen proposed her reduction in force list to the AISD Board of Trustees, its numbers have gone up: From 1,012 to 1,017 to 1,104 to a current high of 1,153. As the board meets for a work session tonight to discuss the RIF list and potential, there are questions hanging over that growth.
The original baseline number was only 485, which was the reduction allowed under the new staffing formulas approved in January. So how did that number more than double? According to Carstarphen on her blog:
[The cuts] are the result of staffing formula decisions by campus principals and department heads to meet the individual needs of campuses, carefully working through district funding by grants, such as the two-year federal ARRA [American Recovery and Reinvestment Act of 2009] funding that ends this year, and reductions in Federal Title dollars, for which we only recently received reduction targets.
She warned that staff on grant-funded positions always knew that these positions were term-limited, and that changes in central admin were done to reflect the new-look campuses.
So that's the 485 to 1,153 rise covered: But that does nothing to explain the creep from 1,012 to to 1,153. That takes breaking down the growth between Feb. 11, when the numbers were first announced, and Feb. 23, when the last statistical breakdown of numbers and cash sources was available (We have requested the updated numbers from AISD.)
Just to explain, "locally funded" means paid for either by the state or by local taxes. "Non-local" means basically means everything else, such as one-off grants and ARRA cash.
| | | | | | |
| --- | --- | --- | --- | --- | --- |
| Date | Local funds | % local funds | Non-local | #age non-local | Total |
| Feb. 11 | 721 | 71.2% | 291 | 28.8% | 1012 |
| Feb. 23 | 763 | 69.1% | 341 | 30.9% | 1104 |
Between the first and second drafts of the RIF list, the ratio of locally to non-locally funded positions has shifted slightly. The district explanation for this is that they have re-calculated the impact of some expiring grants: For example, some paid for two positions, but they were only counting one in their initial sums.
However, digging down deeper into those headline numbers, let's look at teacher positions.
| | | | | | |
| --- | --- | --- | --- | --- | --- |
| Date | Local funds | % local funds | Non-local | #age non-local | Total |
| Feb. 11 | 437 | 83.7% | 85 | 16.3% | 522 |
| Feb. 23 | 462 | 82.2% | 100 | 17.8% | 562 |
This is where both trustees and local union Education Austin are warning about structural problems in AISD's funding. Board Vice-President Vince Torres said he expected the initial announcement of locally-funded teacher positions to be closer to 462 than 437. So when that figure rose, he was not too surprised. However, his real concern is that so many teaching positions are being paid for out of non-recurrent grants. Similarly Education Austin co-president Rae Nwosu said she was concerned that the more recent cuts were being presented as either admin shuffles or expiring grants, when in reality "teachers were down" in both funding categories.
The other real problem with those stats is that, while the continued rhetoric is that teachers are the only thing that needs protecting in public education, they are not the only essential positions. The truth is that schools still need teaching assistants, special ed T.A.'s, tech staff, cleaners, etc, etc etc, but they are classified as classified and administrative staff.
Now let's look at the cash savings.
Date
Local funds
(million)
% local funds
Non-local
(million
#age non-local
Total
(million)
Feb. 11
$37.3
70%
$15.7
30%
$53.3
Feb. 23
$39.9
68.7%
$18.2
31.3%
$58.1
Again, the ratio of local versus non-local funds has shifted, but locally funded positions still account for the bulk of positions being cut.
Here is the baffling flipside to that changing ratio. In under two weeks, the district had to re-calculate the value of non-local funds up by $2.5 million. Those affected positions should have nothing to do with any state-level changes or local decisions. But that $2.5 million represents 14% of total expiring non-local funds, 52% of the cash cut increase between Feb. 11 and Feb. 23, and 4% of the total savings proposed under the cuts.
And then there's the other important coda: Considering that the district will have to pay between $10,790 per eligible employee in unemployment insurance, and there will be new positions under Carstarphen's promised re-organization, it's unclear how much of the purported cuts will actually be real savings.
Got something to say? The Chronicle welcomes opinion pieces on any topic from the community. Submit yours now at austinchronicle.com/opinion.
A note to readers: Bold and uncensored, The Austin Chronicle has been Austin's independent news source for over 40 years, expressing the community's political and environmental concerns and supporting its active cultural scene. Now more than ever, we need your support to continue supplying Austin with independent, free press. If real news is important to you, please consider making a donation of $5, $10 or whatever you can afford, to help keep our journalism on stands.
READ MORE
More AISD
Most extracurriculars postponed, says Superintendent Elizalde
Beth Sullivan, Dec. 31, 2020
First three weeks will have no in-class instruction
Kimberley Jones, July 14, 2020
More Unions
Fringe right draws firefighter, cop wrath after Straus attack
Richard Whittaker, Sept. 15, 2015
Teachers union leader passes, leaving legacy of advocacy
Richard Whittaker, Jan. 14, 2015
More by Richard Whittaker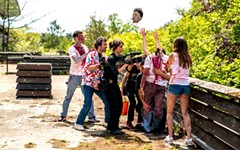 French remake of beloved Japanese movie-making comedy adds a little
Sept. 30, 2022
Wall-to-wall Godzilla in the new show, opening tonight
Sept. 30, 2022
KEYWORDS FOR THIS POST
AISD, Unions, Rae Nwosu, Education Austin, Austin Independent School District, Meria Carstarphen
MORE IN THE ARCHIVES