Newsgeist: 3/4/11
The spirit of the news
By Eric Pickhartz, 7:44AM, Fri. Mar. 4, 2011
Today's Newsgeist will keep your SXSW needs satisfied while feeding your mind other useful info. Check the scene in Wisconsin, learn about food prices, and debate the topic of cockfighting. Read more for the links.
-The world is dealing with drastic food price hikes, which is leading to serious problems for developing countries.
-The Wisconsin Governor is through messing around with the absent senators.
-If proposed governmental budget cuts are approved, we could be spending more time in line at the airport.
-A Lockhart man is trying to find the loopholes in the state's cockfighting laws.
-In the spirit of this week's SXSW issue, here's ten don't-miss local Austin businesses to check out.
-Get a load of the Guardian's project surrounding SXSW: "Innovative Journalism" is music to the Chron's ears!
-And finally, when it comes to peace-talk mediation in Libya, who would be better than "Comrade" Hugo Chavez?
We need your help!

If you have any suggestions on how to make Newsgeist better, more informative, and genuinely more satisfying, let us know!

Leave comments in the section below and we'll do our best to accommodate. Want more links? Less? Found a great story that should be included? Want to design a logo? Let us know!
Got something to say? The Chronicle welcomes opinion pieces on any topic from the community. Submit yours now at austinchronicle.com/opinion.
A note to readers: Bold and uncensored, The Austin Chronicle has been Austin's independent news source for over 40 years, expressing the community's political and environmental concerns and supporting its active cultural scene. Now more than ever, we need your support to continue supplying Austin with independent, free press. If real news is important to you, please consider making a donation of $5, $10 or whatever you can afford, to help keep our journalism on stands.
READ MORE
More News
What happened today in gay? Here's your QILTBAG recap of queer news.
David Estlund, June 1, 2015
What happened today in gay? Here's your QILTBAG recap of queer news.
David Estlund, May 29, 2015
More by Eric Pickhartz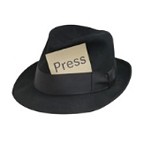 March 2, 2011
Feb. 28, 2011
KEYWORDS FOR THIS POST
News, Libya, Venezuela, Chavez, Gaddafi, Guardian, Lockhart, Wisconsin, food prices
MORE IN THE ARCHIVES