Newsgeist: 2/28/11
The spirit of the news
By Eric Pickhartz, 7:46AM, Mon. Feb. 28, 2011
The final day of February brings you a fresh edition of the Newsgeist. Follow the jump to read stories on the Oscars, Warren Buffett, and Texas wineries.
-Here's your recap of last night's Oscar celebration.
-Journalists are being roughed up in China after attempting to cover peaceful protests.
-Apparently it takes a billionaire to be optimistic about America's economic situation.
-15,000 acres of West Texas near Amarillo caught fire Sunday, burning dozens of homes and evacuating certain areas.
-Messina Hoff Winery and Resort is expanding further than the recent Hill Country additions.
-Doctors say teens shouldn't be using tanning booths because of the health risks.
-And finally, if you've followed the ridiculousness of Charlie Sheen lately, don't miss the interview in his 20/20 special Tuesday night.
We need your help!

If you have any suggestions on how to make Newsgeist better, more informative, and genuinely more satisfying, let us know!

Leave comments in the section below and we'll do our best to accommodate. Want more links? Less? Found a great story that should be included? Want to design a logo? Let us know!
A note to readers: Bold and uncensored, The Austin Chronicle has been Austin's independent news source for almost 40 years, expressing the community's political and environmental concerns and supporting its active cultural scene. Now more than ever, we need your support to continue supplying Austin with independent, free press. If real news is important to you, please consider making a donation of $5, $10 or whatever you can afford, to help keep our journalism on stands.
READ MORE
More News
What happened today in gay? Here's your QILTBAG recap of queer news.
David Estlund, June 1, 2015
What happened today in gay? Here's your QILTBAG recap of queer news.
David Estlund, May 29, 2015
More by Eric Pickhartz
March 4, 2011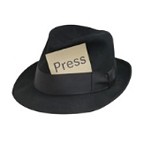 March 2, 2011
KEYWORDS FOR THIS POST
News, China, Buffett, West Texas fires, tanning booth, Charlie Sheen, Messina Hoff, Oscars
MORE IN THE ARCHIVES