Newsgeist: 2/25/11
The spirit of the news
By Eric Pickhartz, 9:52AM, Fri. Feb. 25, 2011
It's the end of the week, and here's your chance to brush up on daily topics with the Newsgeist. Click through to read about the Day of Rage, local virus spikes, and the new Macbook.
-Friday's Newsgeist always involves a market check.
-Iraq's Day of Rage protests, in defiance of a curfew, involved deadly consequences.
-A UT/Texas Tribune poll got the sense of Texans in the budget crisis.
-A serious influx of child viruses is worrying Austinites.
-The Wisconsin Assembly Republicans voted to pass the controversial collective-bargaining bill.
-Here's an inside look at the new technology behind Apple's next Macbook.
-And finally, read what the Farrelly brothers had to say about their new film Hall Pass.
We need your help!

If you have any suggestions on how to make Newsgeist better, more informative, and genuinely more satisfying, let us know!

Leave comments in the section below and we'll do our best to accommodate. Want more links? Less? Found a great story that should be included? Want to design a logo? Let us know!
A note to readers: Bold and uncensored, The Austin Chronicle has been Austin's independent news source for almost 40 years, expressing the community's political and environmental concerns and supporting its active cultural scene. Now more than ever, we need your support to continue supplying Austin with independent, free press. If real news is important to you, please consider making a donation of $5, $10 or whatever you can afford, to help keep our journalism on stands.
READ MORE
More News
What happened today in gay? Here's your QILTBAG recap of queer news.
David Estlund, June 1, 2015
What happened today in gay? Here's your QILTBAG recap of queer news.
David Estlund, May 29, 2015
More by Eric Pickhartz
March 4, 2011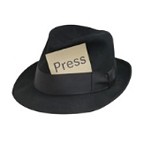 March 2, 2011
KEYWORDS FOR THIS POST
News, Iraq, virus, Hall Pass, Day of Rage, Wisconsin, Apple
MORE IN THE ARCHIVES