Newsgeist: 2/23/11
The spirit of the news
By Eric Pickhartz, 8:55AM, Wed. Feb. 23, 2011
With today's informative Newsgeist, you'll learn all sorts of things about toxic air pollution, the New Zealand earthquake, and a Ford truck recall. Click through for the links.
-The scene in Libya has changed since Moammar Gadhafi urged attacks on protesters.
-The budget debate continues in Wisconsin.
-The Environmental Protection Agency has found a cheaper way to regulate air pollution from industrial processes.
-New Zealand's second largest city was struck by a deadly earthquake.
-Formula 1 (Remember them? See here and here) has chosen a president for the U.S. Grand Prix team in Austin.
-Unfortunately for lots of Texans, Ford is recalling 150,000 trucks because of airbag problems.
-And finally, San Marcos was surprised by their 2010 Census results.
We need your help!

If you have any suggestions on how to make Newsgeist better, more informative, and genuinely more satisfying, let us know!

Leave comments in the section below and we'll do our best to accommodate. Want more links? Less? Found a great story that should be included? Want to design a logo? Let us know!
A note to readers: Bold and uncensored, The Austin Chronicle has been Austin's independent news source for almost 40 years, expressing the community's political and environmental concerns and supporting its active cultural scene. Now more than ever, we need your support to continue supplying Austin with independent, free press. If real news is important to you, please consider making a donation of $5, $10 or whatever you can afford, to help keep our journalism on stands.
READ MORE
More News
What happened today in gay? Here's your QILTBAG recap of queer news.
David Estlund, June 1, 2015
What happened today in gay? Here's your QILTBAG recap of queer news.
David Estlund, May 29, 2015
More by Eric Pickhartz
March 4, 2011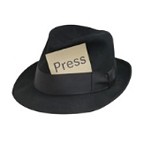 March 2, 2011
KEYWORDS FOR THIS POST
News, Libya, Wisconsin, Formula 1, EPA, San MArcos, Ford, New Zealand
MORE IN THE ARCHIVES