Newsgeist: 2/21/11
The spirit of the news
By Eric Pickhartz, 9:18AM, Mon. Feb. 21, 2011
The President's Day edition of the Newsgeist is full of news stories on subjects like the Wisconsin unions, concealed handguns on campuses, and the Libyan protests. Read more for the links.
-A budget proposal opposed by Wisconsin union workers may not be voted on, because Democratic Senators have gone into hiding.
-Locally, an evening solidarity rally will be held to support state employees and oppose budget cuts.
-In even more budgetary news, the U.S. House voted against Lloyd Doggett's restriction on federal funds being sent to Texas schools.
-Texas lawmakers are pushing for a bill that will allow guns on campuses.
-Elsewhere, the Libyan protests are becoming damaging and deadly.
-A new blood pressure technology could transform doctor's office visits.
-And finally, here's a very cool interactive look at the Best Picture nominees for this weekend's Oscars.
We need your help!

If you have any suggestions on how to make Newsgeist better, more informative, and genuinely more satisfying, let us know!

Leave comments in the section below and we'll do our best to accommodate. Want more links? Less? Found a great story that should be included? Want to design a logo? Let us know!
A note to readers: Bold and uncensored, The Austin Chronicle has been Austin's independent news source for almost 40 years, expressing the community's political and environmental concerns and supporting its active cultural scene. Now more than ever, we need your support to continue supplying Austin with independent, free press. If real news is important to you, please consider making a donation of $5, $10 or whatever you can afford, to help keep our journalism on stands.
READ MORE
More News
What happened today in gay? Here's your QILTBAG recap of queer news.
David Estlund, June 1, 2015
What happened today in gay? Here's your QILTBAG recap of queer news.
David Estlund, May 29, 2015
More by Eric Pickhartz
March 4, 2011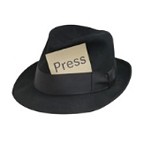 March 2, 2011
KEYWORDS FOR THIS POST
News, Libya, Lloyd Doggett, Wisconsin, blood pressure, Oscars
MORE IN THE ARCHIVES