Newsgeist: 2/18/11
The spirit of the news
By Eric Pickhartz, 7:43AM, Fri. Feb. 18, 2011
Feed your mind some replenishing information with today's Newsgeist. It contains articles on Planned Parenthood, Austin's population, and solar storms. The links can be found after the jump.
-Fed. Reserve Chairman Ben Bernanke had to defend America's monetary policy at the G-20 meeting in Paris. And here's your weekly Market Watch.
-The census strikes again, this time showing a half-million person increase here in Austin.
-Wonder how many of those people will be running the Austin marathon?
-Planned Parenthood, a hotbed for debate, could lose all its funding.
-Here's a take on rebuilding Egypt from the ground up.
-Another everyday thing to be afraid of: the sun.
-And finally, would you be able to tell if there was a knife in your head?
We need your help!

If you have any suggestions on how to make Newsgeist better, more informative, and genuinely more satisfying, let us know!

Leave comments in the section below and we'll do our best to accommodate. Want more links? Less? Found a great story that should be included? Want to design a logo? Let us know!
A note to readers: Bold and uncensored, The Austin Chronicle has been Austin's independent news source for almost 40 years, expressing the community's political and environmental concerns and supporting its active cultural scene. Now more than ever, we need your support to continue supplying Austin with independent, free press. If real news is important to you, please consider making a donation of $5, $10 or whatever you can afford, to help keep our journalism on stands.
READ MORE
More News
What happened today in gay? Here's your QILTBAG recap of queer news.
David Estlund, June 1, 2015
What happened today in gay? Here's your QILTBAG recap of queer news.
David Estlund, May 29, 2015
More by Eric Pickhartz
March 4, 2011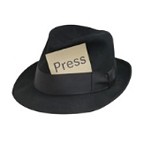 March 2, 2011
KEYWORDS FOR THIS POST
News, Austin, census, G-20 meeting, Federal Reserve, Planned Parenthood, Egypt
MORE IN THE ARCHIVES