Newsgeist: 2/16/11
The spirit of the news
By Eric Pickhartz, 10:46AM, Wed. Feb. 16, 2011
Nothing like a rapid-fire collection of the day's news to increase that I.Q. Leave it to the Newsgeist to fill you in on the danger of smartphones, Border's bankruptcy, and calorie counting. Click through for the stories.
-A former local investment broker is in trouble for fraud involving the NFL and churches.
-San Marcos officials approved a river protection plan, producing some possible implications.
-Smartphones are more susceptible to criminals, unbeknownst to most owners.
-Check out this amazing piece on American children being taken to Japan illegally.
-A study says there's little point to labeling calorie counts on restaurant menus.
-Border's bookstore is declaring Chapter 11, indicative of the changing literary industry.
-And finally, those weird-looking Skechers shoes have caused some problems.
We need your help!

If you have any suggestions on how to make Newsgeist better, more informative, and genuinely more satisfying, let us know!

Leave comments in the section below and we'll do our best to accommodate. Want more links? Less? Found a great story that should be included? Want to design a logo? Let us know!
A note to readers: Bold and uncensored, The Austin Chronicle has been Austin's independent news source for almost 40 years, expressing the community's political and environmental concerns and supporting its active cultural scene. Now more than ever, we need your support to continue supplying Austin with independent, free press. If real news is important to you, please consider making a donation of $5, $10 or whatever you can afford, to help keep our journalism on stands.
READ MORE
More News
What happened today in gay? Here's your QILTBAG recap of queer news.
David Estlund, June 1, 2015
What happened today in gay? Here's your QILTBAG recap of queer news.
David Estlund, May 29, 2015
More by Eric Pickhartz
March 4, 2011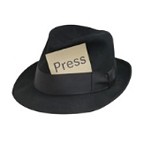 March 2, 2011
KEYWORDS FOR THIS POST
News, Border's, Skechers, San Marcos River, Japan, calorie count
MORE IN THE ARCHIVES