The Daily Hustle: 2/14/11
City Council looks to boost artistic presence
By Eric Pickhartz, 10:56AM, Mon. Feb. 14, 2011
Greetings from the Hustle intern, I'll be taking care of the daily grind on this Valentine's version of the Hustle. Austin's City Council is collaborating with local artists for an ambassador program fit for the Live Music Capital. Read more for the scoop.
In an attempt to further broaden Austin's musical horizons, the City Council is planning to create a Creative Industries Ambassador Program, which will designate artists from the area as promoters and campaigners for the city and its local music and arts scene.
Council Member Laura Morrison first concocted the idea after traveling to Austin's Sister City, Oita, Japan. A joint resolution passed between the two cities alluded to the importance of music as a way to augment international relationships and encourage a common appreciation of the arts as a viable business opportunity.
"It is important to understand that local artists and musicians are small, independent businesses of their own," said Morrison in a release. "The ambassador program will provide our local talent opportunities to gain experience and expand their consumer base while promoting Austin on a national and international scale."
Austin's not alone in this type of endeavor, proven by the Memphis Music Foundation established in 2009. Its emphasis is on sending Memphis artists to music industry gatherings, including South by Southwest.
Austin's international presence should be bolstered by the efforts, and its designation as a live music mecca can only be reinforced through the Creative Industries Ambassador Program.
Council Member Morrison and a panel of Austin's arts scene movers and shakers will hold an open discussion at the Gibson Guitar Showroom (3601 S. Congress, Suite G400) on Wednesday, March 2 at 6:30pm. Along with the Chronicle's very own Margaret Moser, panelists include Cookie Ruiz (Exec. Dir. of Ballet Austin), Rebecca Campbell (Exec. Dir. of Austin Film Society), Rose Reyes (Austin Music Office Dir. for ACVB), Joah Spearman (Austin Music Commisioner), Brad Spies (Marketing for SXSW), and multi-tasking musicians Bob Livingston and Troy Campbell.
We're sure this has absolutely nothing to do with Friday's news.
HEY! Sign up for the Hustle's weekly e-mail newsletter, recapping news, politics and more every Friday. Don't worry, we'll never spam or sell your address. Visit here, enter your info, and click 'City Hall Hustle.'

Got something you wanna show the Hustle? Email it to wells [at] austinchronicle.com, tweet it @CityHallHustle, drop by the Hustle's Facebook or Tumblr page, or leave a comment in the section below.
A note to readers: Bold and uncensored, The Austin Chronicle has been Austin's independent news source for almost 40 years, expressing the community's political and environmental concerns and supporting its active cultural scene. Now more than ever, we need your support to continue supplying Austin with independent, free press. If real news is important to you, please consider making a donation of $5, $10 or whatever you can afford, to help keep our journalism on stands.
READ MORE
More Laura Morrison
November campaign officially begins: "We're ready to win"
Michael King, Aug. 16, 2018
Mayoral candidate on CodeNEXT, APA, public process
Michael King, Jan. 11, 2018
More City Council
Chacon commits to change as academy moves toward reopening
Austin Sanders, March 26, 2021
As water crisis continues, City Hall tries to expedite storm recovery
Austin Sanders, Feb. 26, 2021
More by Eric Pickhartz
March 4, 2011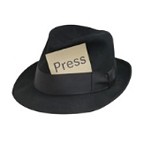 March 2, 2011
KEYWORDS FOR THIS POST
The Daily Hustle, Laura Morrison, City Council, Austin Creative Ambassador Program
MORE IN THE ARCHIVES