Newsgeist: 2/7/11
The spirit of the news
By Eric Pickhartz, 8:47AM, Mon. Feb. 7, 2011
While you're working off all those beers and wings from yesterday, check out the Newsgeist articles on the big game, vegan queso, and hackers at the NASDAQ. Read more for the scoop.
-The Green Bay Packers prevailed over the Pittsburgh Steelers in last night's Super Bowl.
-Several hundred ticket holders for the game at Cowboys Stadium were turned away when installation of temporary seating was incomplete.
-An Austin chef has come up with the fastest growing food brand in the U.S.
-The third week of protests in Cairo, Egypt remain tense.
-AOL has purchased the Huffington Post, and will create one large media company.
-The NASDAQ stock market was hacked into over the weekend.
-And finally, Sarah Palin attempted to trademark her name, but forgot one important step in the paperwork.
We need your help!

If you have any suggestions on how to make Newsgeist better, more informative, and genuinely more satisfying, let us know!

Leave comments in the section below and we'll do our best to accommodate. Want more links? Less? Found a great story that should be included? Want to design a logo? Let us know!
A note to readers: Bold and uncensored, The Austin Chronicle has been Austin's independent news source for almost 40 years, expressing the community's political and environmental concerns and supporting its active cultural scene. Now more than ever, we need your support to continue supplying Austin with independent, free press. If real news is important to you, please consider making a donation of $5, $10 or whatever you can afford, to help keep our journalism on stands.
READ MORE
More News
What happened today in gay? Here's your QILTBAG recap of queer news.
David Estlund, June 1, 2015
What happened today in gay? Here's your QILTBAG recap of queer news.
David Estlund, May 29, 2015
More by Eric Pickhartz
March 4, 2011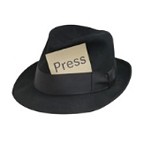 March 2, 2011
KEYWORDS FOR THIS POST
News, Sarah Palin, AOL, Huffington Post, Super Bowl, NASDAQ, Nacho Mamas
MORE IN THE ARCHIVES