Newsgeist: 2/2/11
The spirit of the news
By Eric Pickhartz, 8:26AM, Wed. Feb. 2, 2011
The Newsgeist stories for today comment on Parkinson's Disease, the winter storm, and Punxsutawney Phil. Check things out after the jump.
-Happy Groundhog Day; we can look forward to a shorter winter.
-Meanwhile, Austin wakes up to below-freezing temps, and the northern part of the country gets pounded with wind and snow.
-The Texas AG is making a drug maker return money because of inflated costs.
-The Egyptian demonstrations have turned violent.
-The Kepler space observatory is allowing scientists to discover a number of alien planets.
-Scientists are also closing in on the genetic indicators of Parkinson's Disease.
-And finally, an Austin company is being sued for a parody of the humorous kind.
We need your help!

If you have any suggestions on how to make Newsgeist better, more informative, and genuinely more satisfying, let us know!

Leave comments in the section below and we'll do our best to accommodate. Want more links? Less? Found a great story that should be included? Want to design a logo? Let us know!
A note to readers: Bold and uncensored, The Austin Chronicle has been Austin's independent news source for almost 40 years, expressing the community's political and environmental concerns and supporting its active cultural scene. Now more than ever, we need your support to continue supplying Austin with independent, free press. If real news is important to you, please consider making a donation of $5, $10 or whatever you can afford, to help keep our journalism on stands.
READ MORE
More News
What happened today in gay? Here's your QILTBAG recap of queer news.
David Estlund, June 1, 2015
What happened today in gay? Here's your QILTBAG recap of queer news.
David Estlund, May 29, 2015
More by Eric Pickhartz
March 4, 2011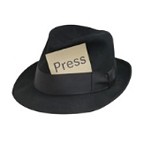 March 2, 2011
KEYWORDS FOR THIS POST
News, Egypt, Austin, Parkinson's, Kepler, winter storm, Groundhog Day, Texas Attorney General
MORE IN THE ARCHIVES