Newsgeist: 1/31/11
The spirit of the news
By Eric Pickhartz, 8:31AM, Mon. Jan. 31, 2011
The Monday morning Newsgeist will fill you in on the Egyptian upheaval, the Wikileaks book, and 2012 campaign fund-raising. Read more for the whole scoop.
-A huge group of conservative donors are gathered in California to plan their GOP spending for the 2012 Election.
-A climber fell 1,000 feet off a Scottish mountain and lived.
-The demonstrations and political unrest in Egypt is becoming more serious by the hour.
-The Longhorns men's basketball team should be moving up in the national rankings, especially with a win against rival Texas A&M tonight at 8.
-The Wikileaks saga is now documented in book form.
-In relation to a past Newsgeist link (see 1/26/11), a local business is looking towards the Super Bowl as a money-making opportunity.
-And finally, the Super Bowl is helping out some Ft. Worth residents in a different way.
We need your help!

If you have any suggestions on how to make Newsgeist better, more informative, and genuinely more satisfying, let us know!

Leave comments in the section below and we'll do our best to accommodate. Want more links? Less? Found a great story that should be included? Want to design a logo? Let us know!
A note to readers: Bold and uncensored, The Austin Chronicle has been Austin's independent news source for almost 40 years, expressing the community's political and environmental concerns and supporting its active cultural scene. Now more than ever, we need your support to continue supplying Austin with independent, free press. If real news is important to you, please consider making a donation of $5, $10 or whatever you can afford, to help keep our journalism on stands.
READ MORE
More News
What happened today in gay? Here's your QILTBAG recap of queer news.
David Estlund, June 1, 2015
What happened today in gay? Here's your QILTBAG recap of queer news.
David Estlund, May 29, 2015
More by Eric Pickhartz
March 4, 2011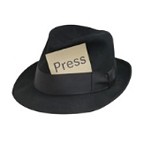 March 2, 2011
KEYWORDS FOR THIS POST
News, California, Ft. Worth, Wikileaks, 2012 election, Egypt, Scotland, Longhorns
MORE IN THE ARCHIVES