Newsgeist: 1/24/11
The spirit of the news
By Eric Pickhartz, 8:24AM, Mon. Jan. 24, 2011
A lovely Monday morning brings a fresh Newsgeist full of stories on the Superbowl match-up, Ireland's election controversy, and Austin police cameras. Click through for the links.
-The Wall Street Journal featured Austin in their travel section.
-Like something out of an action movie, Austin police officers will start wearing head-cams.
-A gunman walked into a Detroit police station and wounded four officers before being shot and killed.
-The Irish government is trying to develop a new plan for election in the midst of its collapse.
-Leaked documents tossed a huge wrench into the gears of the Palestinian world.
-The Packers and the Steelers will meet in the Superbowl in two weeks, so let's start up the hype machine.
-And finally, the world's biggest restaurant chain is doing well, thanks in part to frappes and snack wraps.
We need your help!

If you have any suggestions on how to make Newsgeist better, more informative, and genuinely more satisfying, let us know!

Leave comments in the section below and we'll do our best to accommodate. Want more links? Less? Found a great story that should be included? Want to design a logo? Let us know!
A note to readers: Bold and uncensored, The Austin Chronicle has been Austin's independent news source for almost 40 years, expressing the community's political and environmental concerns and supporting its active cultural scene. Now more than ever, we need your support to continue supplying Austin with independent, free press. If real news is important to you, please consider making a donation of $5, $10 or whatever you can afford, to help keep our journalism on stands.
READ MORE
More News
What happened today in gay? Here's your QILTBAG recap of queer news.
David Estlund, June 1, 2015
What happened today in gay? Here's your QILTBAG recap of queer news.
David Estlund, May 29, 2015
More by Eric Pickhartz
March 4, 2011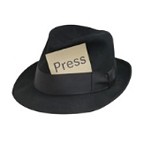 March 2, 2011
KEYWORDS FOR THIS POST
News, Palestine, Packers, Steelers, Superbowl, Detroit, Ireland
MORE IN THE ARCHIVES