Newsgeist: 1/21/11
The spirit of the news
By Eric Pickhartz, 8:34AM, Fri. Jan. 21, 2011
Your Friday edition of Newsgeist has links to stories on Arabian pirates, Austin traffic, and the Sundance Film Festival. Click through to read more.
-Friday means you get another stock market overview.
-Austin is ranked third in a new 'worst traffic' study.
-U.S. Representative Gabrielle Giffords will be rehabbing in Houston.
-South Korean troops rescued 21 sailors on a hijacked tanker off the coast of Somalia.
-The Sundance Film Festival started yesterday.
-Jeff Jarvis has some great insight on the Google growth and expansion.
-And finally, what would you spend $8 million on?
We need your help!

If you have any suggestions on how to make Newsgeist better, more informative, and genuinely more satisfying, let us know!

Leave comments in the section below and we'll do our best to accommodate. Want more links? Less? Found a great story that should be included? Want to design a logo? Let us know!
A note to readers: Bold and uncensored, The Austin Chronicle has been Austin's independent news source for almost 40 years, expressing the community's political and environmental concerns and supporting its active cultural scene. Now more than ever, we need your support to continue supplying Austin with independent, free press. If real news is important to you, please consider making a donation of $5, $10 or whatever you can afford, to help keep our journalism on stands.
READ MORE
More News
What happened today in gay? Here's your QILTBAG recap of queer news.
David Estlund, June 1, 2015
What happened today in gay? Here's your QILTBAG recap of queer news.
David Estlund, May 29, 2015
More by Eric Pickhartz
March 4, 2011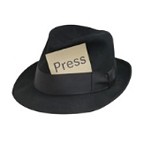 March 2, 2011
KEYWORDS FOR THIS POST
News, Gabrielle Giffords, Jeff Jarvis, Google, Korea, Somalia, Sundance
MORE IN THE ARCHIVES